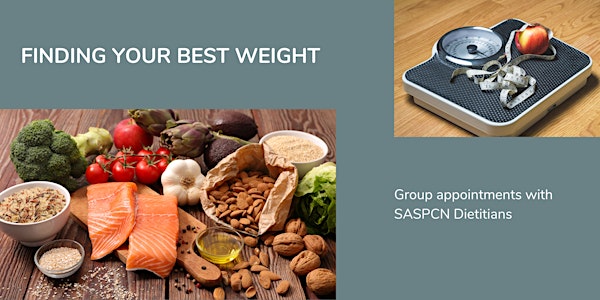 VIRTUAL Finding Your Best Weight Group Sessions - April 2023
A series of small-group online workshops for people seeking qualified support for their weight loss efforts. Physician referral is required.
By St. Albert and Sturgeon Primary Care Network
About this event
Are you confused by the ups and downs of weight loss? Frustrated with mixed messages on the latest diet trend?
You've been referred by your family doctor or primary care nurse to attend these 'Finding Your Best Weight' group sessions. This series of dietitian-led group appointments will clear up confusion by examining the latest research and root causes of increased weight.
Sessions will take place online via Microsoft Teams on three consecutive Thursday evenings from 5:30-7:00 p.m. - April 13, 20, and 27. By registering for a "ticket", you will be registered for all three sessions.
What to expect from weekly group appointments:
Session #1: Weight loss expectations, contributing factors to weight, action planning to address these factors
Session #2: Healthy eating, nutrition action planning
Session #3: Exploring why we eat, action planning around emotional eating, boredom eating, cravings, etc.
Once you've registered through EventBrite, you will be emailed with more information, including a link to attend online via Microsoft Teams.
About the organizer
The St. Albert and Sturgeon Primary Care Network provides access to programs and workshops on a wide variety of health and wellness topics.