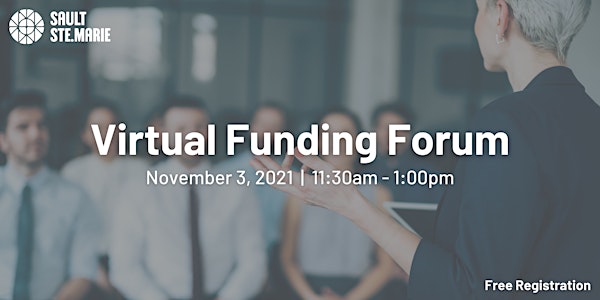 Virtual Funding Forum
Learn about the funding options available to start or grow your organization in Sault Ste. Marie, at one convenient session!
About this event
The City of Sault Ste. Marie's Economic Development Team is hosting a Virtual Funding Forum for local businesses.
This event is a one-stop shop for companies, industry, and community partners to explore funding and financing options in Sault Ste. Marie.
Attendees will have the opportunity to ask questions and learn more about funding and financing programs that might be a fit for their organization!
The following organizations will be participating at the event:
Business Development Bank of Canada
Millworks - Centre for Entrepreneurship
Sault Ste. Marie Innovation Centre
Sault Ste. Marie Chamber of Commerce
Community Development Corporation of Sault Ste. Marie & Area
City of Sault Ste. Marie
PARO Centre for Women's Enterprise
Northern Ontario Heritage Fund
FedNor
Waubetek Business Development Corporation
Registration is free