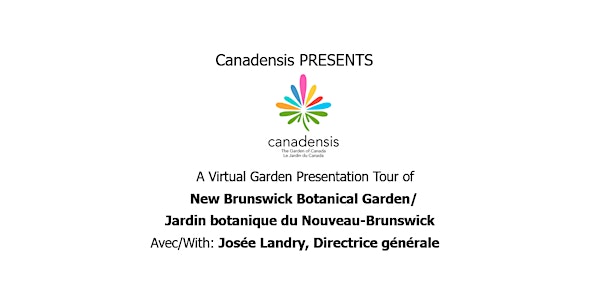 Virtual Garden Presentation of Jardin botanique du Nouveau-Brunswick
Virtual Tour/Presentation of New Brunswick Botanical Garden/Jardin botanique du Nouveau-Brunswick with Josée Landry, Directrice générale
About this event
We love bringing garden people together! With all the limited travel opportunities right now, the Canadian Botanical Garden Society (CBGS) has decided to bring the gardens to you in collaboration with the Canadian Garden Council. We have invited our colleagues at Destination/Botanical Gardens, located along the Canadian Garden Route, to offer virtual garden presentations that you can enjoy from the comfort of your own home.
Our Virtual Garden Presentation Tours continue on Thursday, June 24th with a presentation tour of Jardin botanique du Nouveau-Brunswick with guest presenter, Directrice générale of the garden. (Our list of gardens and guest presenters for the first series of virtual presentations is listed below.)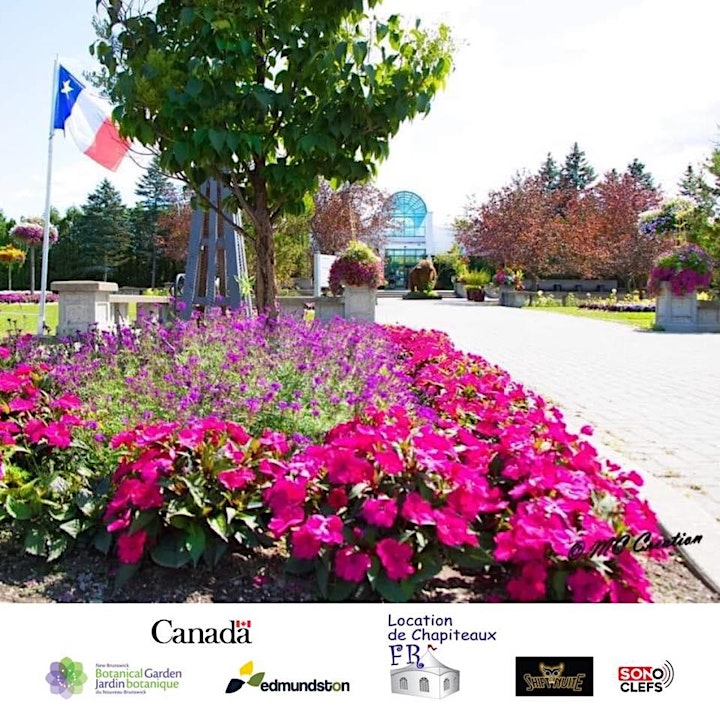 Jardin Botanique du Nouveau-Brunswick
Bienvenue au Jardin botanique du Nouveau-Brunswick pour une découverte sans précédent de la flore naturelle d'ici, d'ailleurs… et bien plus encore. Découvrez nos jardins thématiques, dont celui fort singulier de plantes médicinales et aromatiques où plusieurs ateliers éducatifs sont offerts aux visiteurs. Les impressionnantes mosaïcultures installées sur le site vous feront apprécier cet art unique. Du côté artistique vous découvrirez également l'art du vitrail et de la sculpture sur bois avec nos deux artistes en résidence.
New Brunswick Botanical Garden
Welcome to the New Brunswick Botanical Garden for an unprecedented discovery of the natural flora of New Brunswick, the World… and much more. Discover thematic gardens, including unique medicinal plants and aromatic herbs garden. The mosaicultures installed on the site will help you discover aspects of the local history and culture.
Invitée - Josée Landry
Josée Landry a étudié à l'Université Laval d'où elle a obtenu un baccalauréat en microbiologie et une maîtrise en biologie végétale. Josée est actuellement la Directrice générale du Jardin botanique du Nouveau-Brunswick, et ce depuis mai 2018. Avant ce poste, elle a été gestionnaire d'un centre de recherche spécialisé en bioproduits, agriculture et environnement au Collège communautaire du Nouveau-Brunswick. Elle a également travaillé pour un centre de recherche en aménagement des tourbières de l'Université Laval.
Guest Presenter: Josée Landry
Josée Landry holds a bachelor's degree in microbiology and a master's degree in plant science, both from Université Laval, Québec. Since May 2018, she has been the Director of the New Brunswick Botanical Garden. Previous to her current position she worked for six years as manager of a college applied research center specialized in agriculture and bio-products. She also worked for four years at Université Laval in peatland management applied research.
About: Canadian Botanical Garden Destinations - Virtual Garden Presentation Tours
Our monthly Virtual Garden Tours are hosted live on Zoom and are free to attend. Simply register here. You can soak up the beauty of the plants, the colour explosion, and the history of these wonderful gardens as told by the passionate people who are the driving force behind these must-see garden destinations. They will share wonderful photographs of their gardens.
Garden enthusiasts of all levels enjoy and benefit from visiting destination/botanical gardens during any season. They provide inspiration, education, and wonder for those who enjoy visiting gardens or who have their own garden at home.
Upcoming Virtual Garden Presentation Tours
Date: Thursday, July 29, 2021 (7-8 pm EDT)
MUN Botanical Garden, St. John's, NL
Guest Presenter: Todd Boland, B.Sc., M.Sc. Horticulturist
Date: Thursday, August 26, 2021 (7-8 pm EDT)
Jardin botanique de Montréal, QC
Guest Presenter: Anne Charpentier, M.Sc., M.A., Director
Date: Thursday, September 30, 2021 (7-8 pm EDT)
Assiniboine Park Diversity Gardens, Winnipeg, MB
Guest Presenter: Gerald Dieleman, Senior Director, Horticulture
Date: Thursday, October 28, 2021 (7-8 pm EDT)
VanDusen Botanical Garden, Vancouver, BC
Guest Presenter: t.b.a.
More Virtual Garden Tours to be announced!
Become a Member of CBGS or Make A Donation
All of the Virtual Garden Presentation Tours on the Canadian Botanical Garden Destinations series are free to attend. Enjoy!
Please consider supporting the Canadensis Botanical Garden Society by becoming a member or making a donation at the link below: https://jardincanadensisgarden.ca/donations/memberships/
By making a donation, you contribute directly to our mission to build Canadensis: The Garden Of Canada.
CBGS is leading the movement to build CANADENSIS, a Botanical Garden in Ottawa. Our mission is to create a legacy botanical garden for Ottawa, our Capital and Canada, benefiting all Canadians for generations to come.
Canadensis will be a beautiful and diverse botanic garden that provides all visitors with educational, interactive and enjoyable experiences in a unique, sustainable environment. The Garden promotes a deeper understanding of our intimate interdependence with nature and encourages the commitment and passion necessary to pursue environmentally responsible lifestyles.
The Canadensis Site - A Central Location of National Significance
Located along Prince of Wales Drive and adjacent to the Historic Rideau Canal at Hartwells Locks, our National Botanical Garden occupies a 34-acres parcel of land at the southeast corner of the Central Experimental Farm.
With the addition of Canadensis to the existing Canada Agricultural and Food Museum, Fletcher Wildlife Garden, National Arboretum, Central Experimental Farm Ornamental Beds and Commissioners' Park Floral Displays, these varied attractions will provide a unique horticultural hub. This exciting world-class garden destination will benefit the greater community as well as visitors from across Canada and elsewhere.