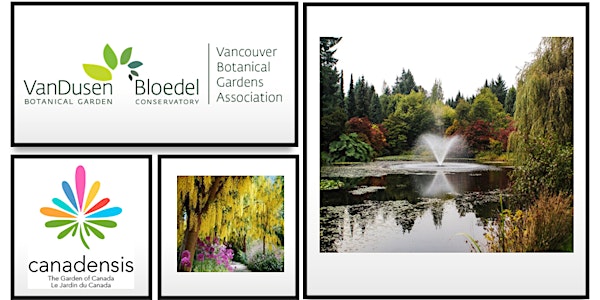 Virtual Garden Presentation of VanDusen Botanical Garden
Virtual Visit to VanDusen Botanical Garden with Cynthia Sayre, Curator of Collections
About this event
VanDusen Botanical Garden is a 55-acre oasis in the heart of Vancouver with over 8,000 plant species and varieties from around the world! Spot and photograph local wildlife, find your way through an Elizabethan hedge maze, unwind in a serene setting, dine on the patios of Truffles Cafe or Shaughnessy Restaurant, or browse the garden-themed gift shop. VanDusen has something for everyone to enjoy!
The Garden's LEED Platinum Visitor Centre was named Most Sustainable Building of the Year in 2014. Shaped like an orchid when viewed from above, its organic lines echo the way nature and conservation have been considered at every turn.
The Garden is jointly operated by the City of Vancouver Board of Parks and Recreation and the Vancouver Botanical Gardens Association, a charitable non-profit organization. Our two organizations have worked together for more than 40 years under a shared vision of making the Garden cherished locally and renowned internationally.
Guest Speaker: Cynthia Sayre, Curator of Collections at VanDusen Botanical Garden. Having worked at VanDusen for over 16 years, she not only holds a wealth of information about our plant collections she also has exceptional knowledge about the garden and its history.