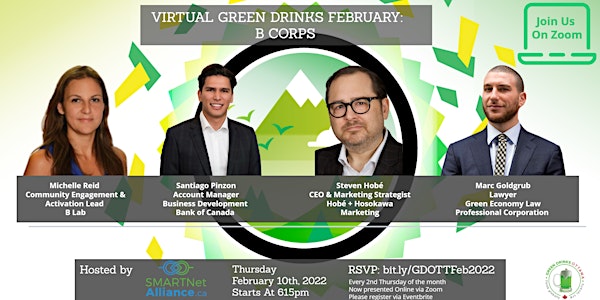 Virtual Green Drinks February 2022 - B Corps
Come learn all about B corps and the good they are creating in Canada
About this event
Join us for the February 2022 edition of Virtual Green Drinks where we will be featuring B Corps. B Corps began in 2006 with the purpose of creating a different kind of economy and the idea that businesses could lead the way. What's grown out of that movement is the B Lab, an organization that certifies companies that meet high standards of social and environmental performance, accountability, and transparency. B Corps exist around the globe and there are over three hundred certified B Corp businesses in Canada. B Lab creates standards, policies, tools, and programs that shift the behavior, culture, and structural underpinnings of capitalism.
During our event we will hear from a representative of B Lab US/Canada , Michelle Reid. She will give us an overview of this global movement of entrepreneurs and the impact these companies are having around the world. Michelle will highlight the certification process while speaking to the work that B Corps are doing in Canada with examples of purpose driven companies like Danone Canada, the Unscented Company and countless more.
Following Michelle we will hear from Santiago Pinzon who is an Account Manager at the Business Development Bank of Canada (BDC). Santiago will speak to why BDC is a B Corp and why it is important to them to be one. He will outline how BDC is also supporting the B Corp ecosystem in Canada. He will share their B Corp Assessment Tool which allows companies to assess their health and impact on others.
After Santiago we will hear from Steven Hobé, CEO of Hobé + Hosokawa Marketing. Steven will detail the work they are doing to help organizations that share a common belief in the Sustainable Development Goals, through creative and driven marketing approaches, specifically on areas of social good and innovation like Mental Health Advocacy; Diversity, Equity, & Inclusion; Sustainability; and Education. His presentation will outline why his company is a B Corp and highlight the important work they are doing to end poverty, improve health and education, reduce inequality and spur economic growth.
Finally we welcome SMARTNet Alliance Member Marc Goldgrub who is the founder of Green Economy Law Professional Corporation. Marc will talk about the legal context in which B Corps and benefit companies came into existence, their legal status and utility under Canadian and American law, and practical considerations for why companies may want to 'B' certified.
Join us for this informative session on B corps and how they are changing the world, one business at a time. Register now to hold your spot and join us Thursday February 10th starting at 615 pm EST.
Speaker Bios:
Michelle Reid
Michelle supports the growth and nurturing of the B Corp movement in her role as the Community Engagement and Activation Lead for B Lab US/Canada, which is supported by the Business Development Bank of Canada. She creates connections by building B Local Communities by providing resources, certification guidance and collective action opportunities to strengthen the B Economy and communities.
Michelle is passionate about the local economy and the impact of local purchasing, and supports organizations such as Loco BC where she served on the Board of Directors. Michelle is constantly striving to ensure that companies are using the best practices for their employees, the environment and the community they reside in and takes great pride in being able to support the redefining of success in business.
Santiago Pinzon
Santiago Pinzon is an Account Manager at the Business Development Bank of Canada (BDC).In his previous roles he has supported Canadians. Now he works closely with several groups including immigrants, multinational exporters and local entrepreneurs in Ottawa. He has been most proud of having helped his clients maintain their business during the pandemic and truly making an impact on their day to day.
Steven Hobé
Steven Hobé is a CEO, Marketing Strategist & Educator. He formed Hobé Hosokawa Marketing in 2010, focusing on marketing strategy and implementation within the social good sector. He also holds the designation of Chartered Marketer from the Canadian Marketing Association. One of Steven's passions is the television and radio industry, which he's been a part of both on and off camera for the past 20 years. Steven also teaches Marketing Strategy, Consumer Behaviour, & Voiceover courses at George Brown College.
Marc Goldgrub
Marc is the founder and only current lawyer at Green Economy Law Professional Corporation. Before starting the firm, Marc worked as a resident associate at the premier New York media and entertainment law firm Grubman Shire Meiselas & Sacks, and as an in-house law clerk and articling student at a large Canadian retail clothing company.He is a member of Citizens' Climate Lobby and the cycling advocacy group Toronto Community Bikeways Coalition. He's also been a proud vegan since 2011.
____________________________
Missed passed Green Drinks? Click here to watch the virtual Green Drinks over the past few months.
Click here to join the Ottawa Renewable-Green Energy Meetup Group and view our upcoming speakers.
If you have any questions about this event please send an email to info@SMARTNetAlliance.ca.