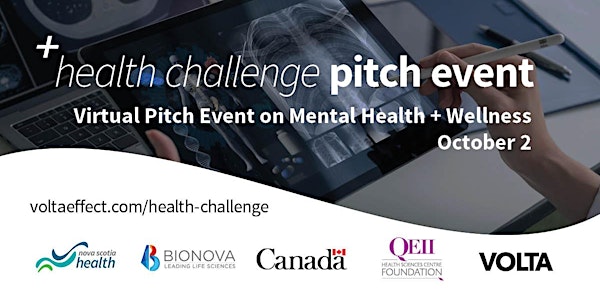 Virtual Health Challenge Pitch Event #2: Mental Health + Wellness
The second Health Challenge Pitch Event will feature up to five tech companies working on mental health + wellness solutions + vie for $100K
About this event
Our second virtual Health Challenge Pitch Event will focus on mental health and wellness! 
When: Friday, October 2, 2020 from 12:00pm to 2:00pm
Where: Virtually
When you register for the event, the link to join the livestream will be included in your order confirmation. Don't forget to Tweet along with us using the hashtag #healthinnovation!
Description:
Created as an exciting, new partnership between Nova Scotia Health (NSH), QEII Foundation, BioNova, ACOA and Volta, the Health Challenge Pitch Event Series showcases medtech companies with disruptive technologies and/or services that align with a major priority of the province's health care system.
This series of pitch events (five in total) focuses on various priorities as identified by NSH; companies in the pre-determined field – in this case, mental health and wellness – will be tasked with presenting their technologies as a means of solving these priorities. The goal is to provide market validation for these companies and provide an opportunity for NSH to pilot these new innovations.
The second Health Challenge Pitch event on Friday, October 2 , 2020 will focus on mental health and wellness. Health and life sciences companies are invited to apply, and those selected will present how their technology and/or service will solve the identified priority. The judging panel will be comprised of industry experts as identified by NSH and other partners. 
The winning company will receive $100,000 and their innovative technology will be considered for adoption by NSH.
Event Schedule:
12:00pm - 12:10pm : Welcome remarks
12:10pm - 1:20pm : Company Pitches
1:20pm - 1:40pm : Judges Deliberation 
1:40pm - 1:50pm : Announcement of Winner and Closing Remarks 
NOTE: If you are unable to attend any of our events please take a minute and cancel your ticket. This allows our events team to better prepare for every event.
By attending this event, you agree to be photographed and/or filmed and give permission to Volta and its collaborators to use your image in promotional and/or marketing materials.