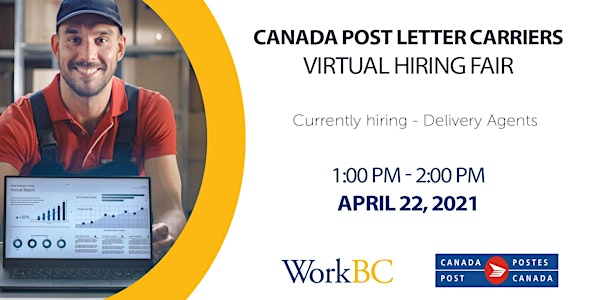 Virtual Hiring Fair - Canada Post Letter Carriers
Virtual Hiring Fair - Canada Post Letter Carriers
About this event
Virtual Hiring Fair for Letter Carriers
- Delivery Agents
Canada Post is an exciting place to work and you can be part of it!
We deliver billions of items to Canadians each year – and you can be a big part of making this happen. As a temporary, on-call delivery agent (also known as a letter carrier), you'll be the face of Canada Post in your community and make sure customers and businesses get the mail and parcels they're waiting for.
Does this sound like you? The role of delivery agent would be a great fit if you:
- like meeting people and making their day
- enjoy being outside and active year-round
- want to work for a great national company
- would be proud to serve your fellow Canadians
Join Virtual Hiring Fair for Canada Post Letter Carriers from the comfort of your home!
DATE: April 22nd, 2021
TIME: 1:00 PM – 2:00 PM
TICKETS: You will receive an email with your ticket once you confirm
We look forward to seeing you there.
Stay Connected and like us on Facebook!
By registering for this event, you consent to receiving WorkBC related emails.