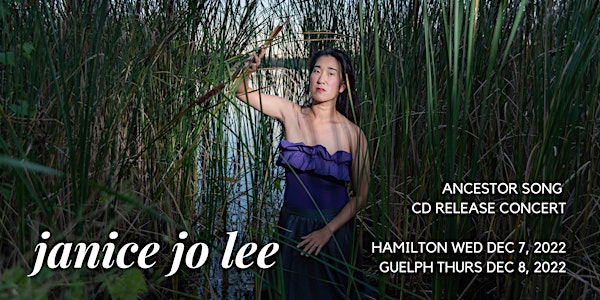 *Virtual Hybrid Concert* Janice Jo Lee ANCESTOR SONG CD Release - Guelph
Janice Jo Lee Ensemble performs live in Guelph. Buy your exclusive pre-sale hard copy CD of the new Ancestor Song album.
Date and time
Thu, Dec 8, 2022 7:00 PM - 9:30 PM EST
Location
Silence Sounds 46 Essex Street Guelph, ON N1H 3K8 Canada
Refund Policy
Contact the organizer to request a refund.
About this event
Janice Jo Lee Ensemble performs live in Guelph. Buy your exclusive pre-sale hard copy CD of the new Ancestor Song album. The worldwide digital release of the album is May 1, 2023.
An evening of soul-warming three part harmony, stirring musical themes, poems on our times, and sing-alongs for the people. A comforting balm for the overworked, weary-hearted, and revolutionary spirit.
Masks mandatory to protect everyone in the busy December times. This is a wheelchair accessible venue. There is a single-stall wheelchair accessible bathroom on site.
BAND
Janice Jo Lee - Vocals, Guitar, Trumpet
Camila Diaz-Varela - Vocals, Guitar
Y Josephine - Vocals, Cajon, Conga
Lonny Knapp - Electric Guitar, Mandolin
SCHEDULE
6:30 PM Doors
7:15 PM Set 1
8:00 PM Intermission
8:15 PM Set 2
9:00 PM End
ABOUT JANICE JO LEE
Janice Jo Lee is a dynamic artist. She is a second generation Korean-Canadian settler based in Tkaronto (Toronto), Ontario. She is a folk-soul-jazz singer songwriter, composer-sound designer, spoken word poet, theatre maker, and arts and anti-oppression facilitator.
Lee's artwork has always been one with her activism. Her songs, poems and plays are immersed in issues of gender empowerment, community, climate change, the environment and antiracism. On stage she performs spoken word pieces and songs built on layers of cascading harmonies. With her guitar, looping pedal, trumpet, Korean janggu drum, disarmingly funny candour and poetically-rich lyrics, Lee commands the stage. She conjures warm energy, asks questions about our times, and leaves audiences rejuvenated and aglow.
Born in Toronto to a Korean immigrant family, she grew up riding bikes, singing in choir, and preferred soccer to her piano lessons. By the time she graduated from Wilfrid Laurier University with a major in English Literature and minor in Political Science, she was a songwriter performing locally with The Radical Choir. It was in this collective that Lee began her early practice as a folk musician - leading sing-alongs, composing songs inspired by local issues, and performing in community.
In the first ten years of her career in Kitchener-Waterloo she steered the emergence of its next generation of spoken word poets as the director of the KW Poetry Slam. As a folk music producer, she cultivated the local scene as a series curator and programmer. As an outspoken activist and organizer she brought forward uncomfortable conversations around racism and white supremacy in the local social justice culture and queer community.
In the next few years Lee toured the country and screened a full-length documentary called The Legend of Sing Hey (Dir. Becca Redden) at Rainbow Reels Waterloo and Toronto Queer Film Festival. She wrote and performed a critically-acclaimed one-woman musical titled Will You Be My Friend, (Dir. Matt White) a searing satire on cultural assimilation and whiteness in Canada. And she composed original music for three plays: Shaded by Nada Abousaleh, I Don't Know and the Dora-nominated Suitcase, both by Syrian-Canadian playwright-actor Ahmad Meree. During the lockdown Lee expanded her practice facilitating anti-oppression conversations for universities and organizations such as Folk Alliance International, U of T School of Social Work, and Vancouver Poetry House.
This year she releases her long anticipated song cycle album titled Ancestor Song. Drawing inspiration from her island-dwelling family roots in South Korea, Lee says that "these melodies access a musical spirit deep in my blood memory. Melodies I feel have been passed down to me by my ancestors, who gave me the voice in my chest and my body as instrument." The songs are folk in tradition, concerned with contemporary issues of the people and land. The melodies are rousingly thematic and supported by expansive jazz harmonies. Many songs depict water as a force of healing, power, drowning and destruction.
In the studio, Lee says for the first time she felt safe and supported by her producer, avant-folk-rock artist from Kitchener-Waterloo, JoJo Worthington. "Not only is JoJo an incredible sound engineer and musician with an ear for sonics that's beyond my frequency, she is a kind person who cares about me and knows my moods. With JoJo in the control room, we were able to actualize my musical dreams without compromise and I couldn't be more proud of this record. We captured the Janice Jo Lee sound and I've been telling everyone it's the best thing I've ever made."
The first single "Here I Am" is out now and stay tuned for the album Ancestor Song coming out in 2023.
WEBSITE JANICEJOLEE.CA