About this Event
Hosted by Critical Link International and moderated by
Angela Sasso, President, Critical Link International
Research conducted by NIMDZI and will presented by
Renato Beninnato, Chief Executive Officer, and
Sarah Hickey, Nimdzi's Interpreting Researcher
along with guests:
Tucker Johnson, Managing Director
Rachel Ryan, Advisory Board Member: Interpreting
Webinar platform and technology by KUDO
Abstract:
There are a number of virtual interpreting technologies (VIT) available. At the moment the number is in the 60's and more are entering the market. VIT allows interpreters to work remotely, whether this is over a video call, phone call or chat. This webinar will look at the challenges and opportunities for interpreters using VIT and will be focusing on community interpreters specifically. We will be considering not only how VIT is used, but the technology landscape as a whole, including the tools, platforms, and features available, as well as the evolution of VIT. This webinar will include updated research findings presented here, for the first time.
Experience KUDO! This webinar is presented on KUDO's powerful, cloud-based meeting platform. Experience how to seamlessly connect to quality interpreting services by the switch of a button while you are listening and participating. KUDO will give a short demonstration of its virtual meeting platform that integrates interpreting in multiple languages.
About the Partners:
Critical Link International was founded in 1992, and has become synonymous with community interpreting. Giving rise to a body of research and a field of work that is gaining more ground daily, CLI has given a global voice and a community to interpreters that work in community based settings such as health, legal and public services. Join us in Japan, June 14 - 16 2019 for CLI: Interpreting in the Age of AI. Register or get more information at www.criticallink.org
Nimdzi knows the industry! The language services industry is growing and there is no end in sight. For your company to dominate the competition and be ahead of the game, you require insight – and that is exactly where we come in. We come from diverse backgrounds in the language industry. We are a market research and international consulting company made up of analysts, consultants, LSP experts, and researchers. But we are all connected with one united goal – Helping our clients succeed. Learn more at www.nimdzi.com
KUDO is a powerful cloud-based collaboration platform that enables web meetings and live conferences with real-time multilateral language interpretation. KUDO supports more effective and inclusive meetings by allowing people and businesses to overcome communication barriers and speak in the comfort of their own language. Accessible from anywhere, on any device, KUDO redefines possibilities in global communication. KUDO, Inc. is a New-York based technology startup composed of language and conferencing industry insiders looking to bring people together. More info at www.kudoway.com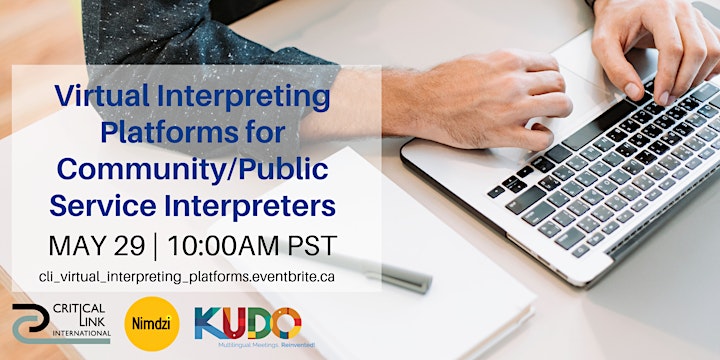 Date and Time
Location
Refund Policy