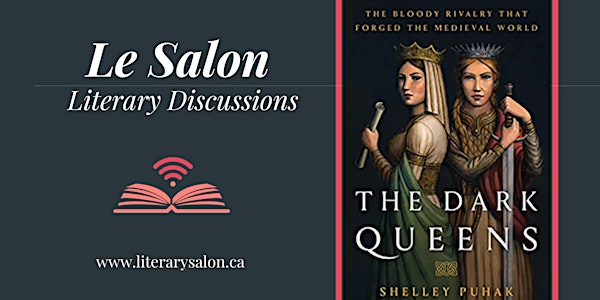 Virtual Literary Salon: 'The Dark Queens' by Shelley Puhak
Refund policy
Contact the organizer to request a refund.
Eventbrite's fee is nonrefundable.
"The Bloody Rivalry That Forged the Medieval World."
About this event
A nonfiction read about two badass women in history!
Book Blurb: Brunhild was a Spanish princess, raised to be married off for the sake of alliance-building. Her sister-in-law Fredegund started out as a lowly palace slave. And yet—in the 6th-century Merovingian Empire, where women were excluded from noble succession and royal politics was a blood sport—these two iron-willed strategists reigned over vast realms for decades, changing the face of Europe.
The two queens commanded armies and negotiated with kings and popes. They formed coalitions and broke them, mothered children and lost them. They fought a years-long civil war—against each other. With ingenuity and skill, they battled to stay alive in the game of statecraft, and in the process laid the foundations of what would one day be Charlemagne's empire. Yet after Brunhild and Fredegund's deaths—one gentle, the other horrific—their stories were rewritten, their names consigned to slander and legend (GoodReads).