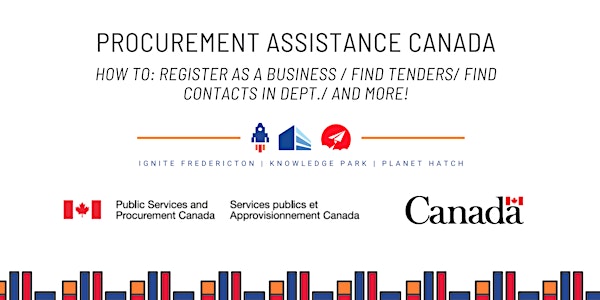 Virtual Lunch and Learn with Procurement Assistance Canada
Virtual Lunch and Learn with Procurement Assistance Canada – Atlantic Canada
About this event
• Wondering how to Sell to the Federal Government ?
• Curious about Federal Procurement is Transitioning to CanadaBuys.ca?
• How to find Federal Government opportunities .
Find out More by attending this session . This session is for both new and existing companies looking to expand their business and have the Gov't of Canada as a Client.
Procurement support for businesses
Procurement Assistance Canada (PAC), as part of Public Services and Procurement Canada (PSPC), is here to make it easier for smaller businesses to bid on federal contracting opportunities and increase supplier diversity in federal procurement.
We do that by:
• Working to eliminate systemic barriers that impact smaller and diverse businesses;
• Advocating for smaller and diverse businesses among government buyers and policy-makers;
• Improving tools and processes towards more equitable access to federal contracting opportunities.
PAC can help you to better understand and navigate the procurement process so you can get "bid ready". Contact us to learn about:
• How the government buys goods and services
• How to sell to the federal government
• How to find opportunities
• How to use online services
Our regional network of offices across Canada offer:
• Seminars on the steps involved in selling goods and services to the federal government
• Workshops with detailed and practical advice for navigating the procurement process
• One-on-one assistance to provide personalized support for your business needs