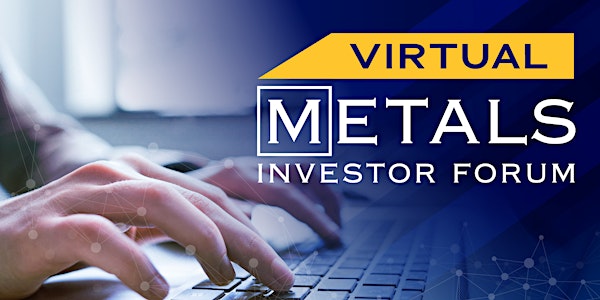 Virtual Metals Investor Forum | 8th October 2020
Virtual Metals Investor Forum | 8th October 2020
About this event
Register today for this exclusive virtual event on Thursday, October 8, 2020!
The best way to make money in this industry is to learn about great companies before the other guys. That's what the Metals Investor Forum is all about. Unlike other resource investor conferences, the Metals Investor Forum brings you a curated list of companies followed by one or more of the newsletter editors that host it.
The Speakers
Jay Taylor is the editor of J Taylor's Gold, Energy & Tech Stocks newsletter and host of the web-based radio show "Turning Hard Times into Good Times." In 1981 he began publishing his gold-orientated newsletter. His continuing interest in gold mining prompted him to study geology, supplementing his MBA in Finance & Investments. Throughout his career Mr. Taylor worked as a banker, including holding a job in the Mining and Metals Group of ING Barings in New York. In 1997 he resigned from ING Barings to devote himself full time to researching mining & technology stocks, writing his newsletter and assisting companies in raising venture capital.
Gwen Preston launched Resource Maven after spending almost a decade writing about resource investing, most of it as a senior writer at The Northern Miner. Her subscribers benefit from the first-hand knowledge that she developed through years of visiting projects and interviewing geologists, analysts, and management teams.
Eric Coffin has been publishing HRA Advisories for 20 years; this has given him the experience to identify market trends early and to understand exactly what a company needs to be successful. Thirty years of mining sector experience, from joint ownership of an exploration consultancy to sector wide data analysis and company specific advising on M&A, project selection, financing and market awareness give Eric the background to know what works.
Keith Schaefer, editor and publisher of the Oil & Gas Investments Bulletin. Keith started his subscription service in mid-2009 because he could see there was no place where retail investors could go to and easily find which oil and gas companies were creating huge shareholder wealth by using exciting new technologies, such as horizontal drilling, fracing and 3D seismic.
The Event
When: October 8th, 2020 between 8am - 4:30pm PST
Where: Online
Cost: Free to Attend with Invite & Pre-Registration
The Companies
The companies presenting at the Metals Investor Forum are as vetted as it gets - they have already cleared the high hurdle of earning a recommendation from the newsletter writers' as companies with excellent management teams, great financials and promising properties.
Brigadier Gold Limited
Eclipse Gold Mining Corporation
Elemental Royalties Corp.
Erdene Resources Development
Fireweed Zinc Ltd.
Golden Lake Exploration Inc.
Heliostar Metals Ltd. (Redstar Gold)
Hemlo Explorers Inc.
Idaho Champion Gold Mines Ltd.
"Inflection Resources Ltd.
Novo Resources Corp.
Omineca Mining and Metals Ltd.
Pan Global Resources Inc.
Puma Exploration Inc
Summa Silver Corp.
Walker River Resources
All newsletter writers stress that the first quality on that list – excellent management – is essential to the success of a junior mining company. The problem is that it's hard to assess management without being able to look them in the eye and ask the questions that matter to you.
The Metals Investor Forum gives you that time. Most companies will be represented by their President or CEO, giving attendees the valuable opportunity to formulate a firsthand opinion, while also getting a complete company update.
Register Today While Seating is Available!