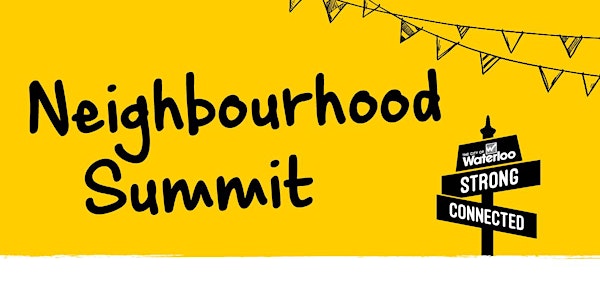 Virtual Neighbourhood Summit 2021
Welcome to the 3rd annual Neighbourhood Summit! Join us from November 9-December 2 for virtual sessions to learn, share, and network.
About this event
From November 9-December 1, the City of Waterloo will host the 3rd annual Neighbourhood Summit through a series of virtual sessions. The summit will bring together neighbours from across the city to build capacity, share information and network. Workshops include:
Getting to know your neighbours: Barriers to relationship building on November 9th from 7-8:15pm
This session explores the importance of relationships to a healthy neighbourhood and to managing conflict; and how our unconscious bias impacts relationship building.
Getting to know your neighbours: Ideas for addressing conflict on November 16th from 7-8:15pm
Attendees will gain an understanding of options to resolve conflict between neighbours.
Understanding Planning in Waterloo on November 25th from 7-8:30pm
This workshop will share high-level information about urban planning in Waterloo and provide details on how neighbours can get involved/stay informed.
Neighbourhood Networking with the Volunteer Action Centre on December 1st from 6:30-7:30pm
At this session, attendees will be able to ask questions, share their knowledge, and build connections with other neighbours. Neighbours will discuss interests, questions, ideas, or other topics about connecting in their community.
Refugee Resettlement & Supports Neighbours Can Offer on December 2nd from 8-9pm
At this session, Reception House will share information about the refugee resettlement process and practical ways neighbours can welcome newcomers and support these efforts in any neighbourhood.