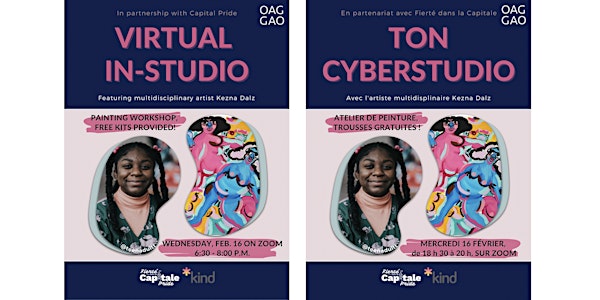 VIRTUAL PAINTING WORKSHOP / ATELIER VIRTUEL DE PEINTURE
OAG Youth Council Painting Workshop with Artist Kezna Dalz / Atelier de peinture avec l'artiste Kezna Dalz
About this event
*Un message en français suivra.*
Wednesday, February 16| 6:30 PM to 8 PM (EST) | Zoom
In partnership with Capital Pride for their February Queer, Black, Trans & Proud programming, the OAG Youth Council is excited to present an online virtual painting workshop led by Montreal-based artist Kezna Dalz! Join us virtually on February 16 at 6:30 pm to create a painted work that depicts what you would like to see in your heart.
Kezna's work is characterized by raw features and bright colours, and within her multidisciplinary practice she addresses themes such as feminism, the fight against racism, popular culture as well as one's relationship to sexuality. Her work can be viewed on https://teenadultt.com/
ALL YOUTH ARE WELCOME, SAFE SPACE.
Free kits provided. Each kit includes a paintbrush, thick painting paper, paint and a frame. To get one, simply sign up via our Eventbrite page by February 9 and drop by the gallery on the 14th to pick it up! Please note that if you sign up, you commit to picking up a kit and attending the event. Alternatively, you can also join with your own materials!
Kit pick-up location and time:
Ottawa Art Gallery, 10 Daly Ave.
Monday, February 14, 3 - 6 pm.
ZOOM LINK: https://us06web.zoom.us/j/88319758287
English and French explanations available during workshop!
If you have any questions, email us at alkokozaki@oaggao.ca
____________________________________________________________________________________________________
Mercredi 16 février | 18 h 30 à 20 h (HNE) | sur Zoom
En partenariat avec Fierté dans la Capitale, dans le cadre de leur programmation Queer, trans, noirs·es et fiers·ères de février, le Conseil de jeunesse de la GAO présente un atelier virtuel de peinture avec l'artiste montréalaise Kezna Dalz ! Soyez des nôtres virtuellement le 16 février à 18 h 30 pour créer une œuvre en peinture qui représentera ce que vous aimeriez voir dans votre cœur.
Le travail de l'artiste multidisciplinaire Kezna se caractérise par des coups de pinceau bruts et des couleurs vives. Elle aborde des thèmes tels que le féminisme, la lutte contre le racisme, la culture populaire ainsi que son rapport à la sexualité. Consultez ce site Web pour voir son travail : https://teenadultt.com/
BIENVENUE À TOUTES LES PERSONNES DE 15 à 25 ANS. MILIEU RASSURANT.
Trousses fournies gratuitement. Chaque trousse comprend un pinceau, du papier à peindre épais, de la peinture et un cadre. Pour obtenir votre trousse, vous n'avez qu'à vous inscrire via notre page Eventbrite avant le 9 février et passer à la GAO le 14 février pour la récupérer ! Vous vous engagez à récupérer une trousse et à assister à l'évènement en vous inscrivant. Vous pouvez également participer avec vos propres matériaux !
Lieu et heure pour récupérer votre trousse :
Galerie d'art d'Ottawa, 10, avenue Daly.
Lundi 14 février, entre 15 h et 18 h.
LIEN ZOOM: https://us06web.zoom.us/j/88319758287
L'atelier sera animé en anglais et en français !
Si vous avez des questions, envoyez un courriel à alkokozaki@oaggao.ca