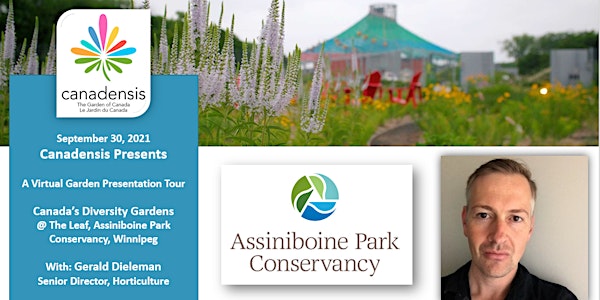 Virtual Presentation Tour of The Leaf @ Assiniboine Park, WPG
Virtual Visit to The Leaf, Assiniboine Park Conservancy, Winnipeg, With Gerald Dieleman Senior Director, Horticulture
About this event
The outdoor Gardens at The Leaf are now open, returning a beautifully revitalized area of the Park to the community. These gorgeous young gardens will change with the seasons and mature gradually over the weeks, months, and years to come.
The new outdoor Gardens offer close to 30 acres of gardens and greenspace in the southeast corner of Assiniboine Park. There are six areas to explore - Indigenous Peoples Garden, Kitchen Garden, Sensory Garden, Performance Garden, Seasonal Garden, and The Grove.
What is The Leaf? The Leaf is being created as a magnificent indoor, multi-seasonal attraction, and one of the most visually stunning places of its kind in North America.
Guest Host – Gerald Dieleman, Senior Director, Horticulture, Assiniboine Park Conservancy
He is the Department Head for project planning and coordination for implementation of Public Garden and horticulture/landscape related capital projects at Assiniboine. He has been part of the team at Assiniboine Park since 2012. Prior to joining the Park, he worked as a Landscape Architect MHBC Planning
Mr. Dieleman earned his Master of Science in Public Horticulture from the University of Delaware and his BLA from the University of Guelph. He spent a year working as a gardener with the Royal Horticulture Society at Rosemoor Garden in the UK and did his graduate work at Longwood Gardens in Pennsylvania.