Event Information
Refund policy
Contact the organiser to request a refund.
Eventbrite's fee is nonrefundable.
The Conscious Fund & Microdose are proud to present their Virtual Psychedelics Conference on Tuesday 14th and Wednesday 15th April 2020.
About this event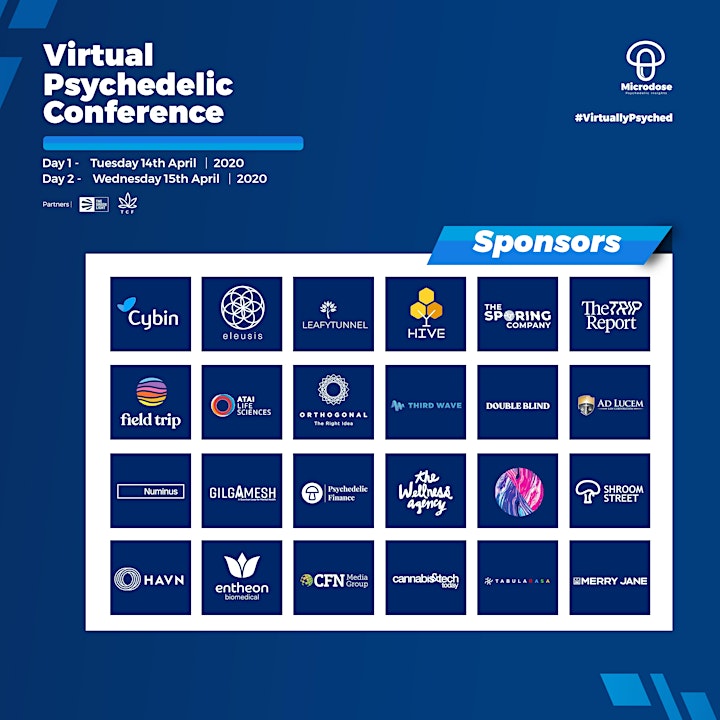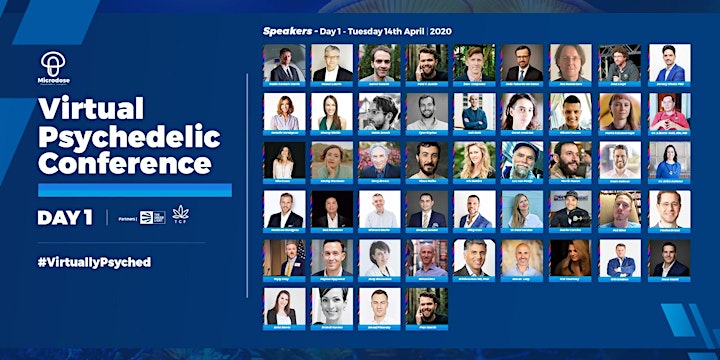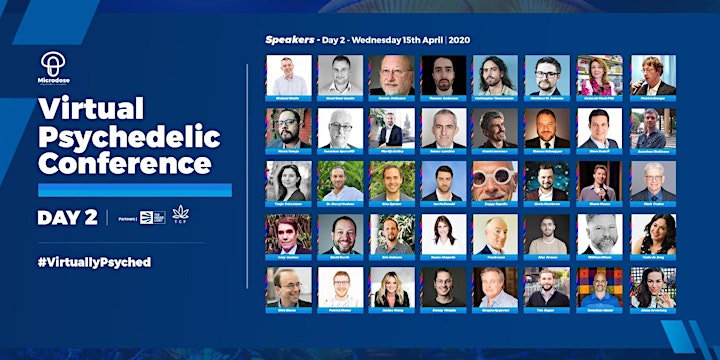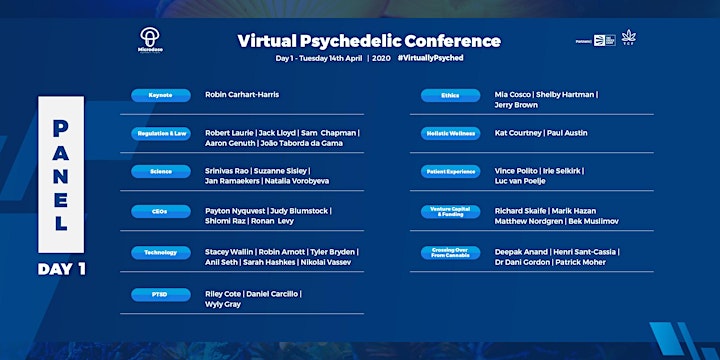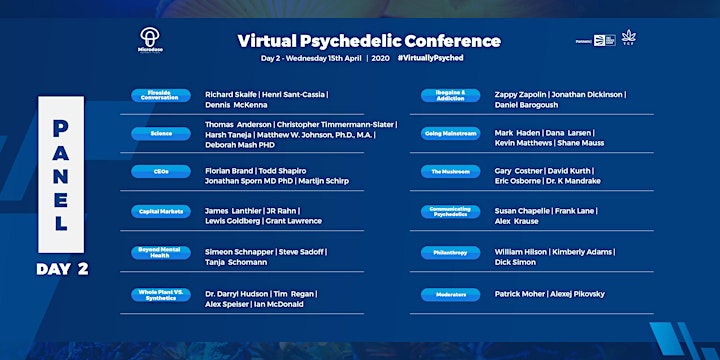 VIRTUAL PSYCHEDELICS CONFERENCE
***We are delighted to announce Rick Doblin will be giving our closing keynote address. He is the founder and executive director of the Multidisciplinary Association for Psychedelic Studies (MAPS).
***We also have Paul Stamets joining our panel on The Mushroom. He is a speaker, author, mycologist, medical researcher and entrepreneur, and is considered an intellectual and industry leader in fungi: habitat, medicinal use, and production.
**Tickets are available throughout the conference, including recordings of every panel.
*Update - With overwhelming interest, and now almost 100 speakers, including Dennis McKenna, we are pleased to announce the conference will now run on a second day, the 15th of April to allow attendees to make the most of the many panels we will be running. Further details of the extended lineup will be posted shortly.*
In the midst of a global health crisis, Microdose and The Conscious Fund are hosting a worldwide virtual conference for the emerging psychedelic medicine industry, the biggest global event in the space to date. Given the mental health and wellbeing challenges facing the world, the conference is a timely look at the new treatments and therapies which have astonished researchers.
In partnership with The Green Light and The Conscious Fund, a venture capital fund with active investments in the psychedelics industry, this groundbreaking event will bring together CEOs, investors, scientists, researchers, and regulators for an array of panel discussions and collaborative networking.
Psychedelic drugs are showing incredible promise in their ability to treat a vast range of mental health conditions, including addiction, treatment-resistant depression, PTSD, eating disorders, and many more. Forward thinking scientists, a new breed of psychedelic medicine companies and healthcare advocates are learning to harness the power of psychedelics to tackle the worldwide need for mental wellbeing head-on.
Using new virtual conferencing software, attendees will have access to leading psychedelic experts, and discover the latest trends, while building bridges with thought-leaders and exploring unique investment opportunities.
The conference agenda includes a briefing to set the scene on the psychedelics industry, followed by discussions on psychedelic medicine, drug development, regulation, ethics, investment and much more. One to one and group discussions will take place throughout the event.
CONFERENCE TIMES & FORMAT
Panels and keynotes will run for 30 minutes, with a 15 minute Q&A session afterwards. The conference will begin at 17:00 (GMT) / 12:00(EST) / 09:00 (PST) each day. You will be sent login and platform details on Monday the 13th of April.
The whole conference will be recorded and will be available to all ticket holders to enable attendees to make the most of the experience.
DAY ONE - 14th April
Keynote
Psychedelics - therapeutic mechanisms.
Robin Carhart-Harris
17:00 (GMT) 12:00 (EST) 09:00 (PST)
Regulation & Law
Is legalisation the right model for the psychedelic space, and how can regulators improve patient access through legislation?
Jack Lloyd, Aaron Genuth, Sam Chapman, João Taborda da Gama
17:35 (GMT) 12:35 (EST) 09:35 (PST)
Science
What positive and negative behavioural changes occur during psychedelic experiences, and what research is urgently needed to tell us more?
Jan Ramaekers, Natalia Vorobyeva, Dr. Mathew Cook, Jeremy Weate, Vince Polito
18:25 (GMT) 13:25 (EST) 10:25 (PST)
Technology
Does technology allow us to truly mimic, amplify or improve psychedelic experiences through using VR, data and apps?
Tyler Bryden, Anil Seth, Sarah Hashkes, Nikolai Vassev, Stacey Wallin, Robin Arnott
19:15 (GMT) 14:15 (EST) 11:15 (PST)
Ethics
Are there benefits to patient access in following the medical model versus de-criminalisation or legalisation?
Shelby Hartman, Jerry Brown, Marta Kaczmarczyk, Daan Keiman, Mia Cosco
20:05 (GMT) 15:05 (EST) 12:05 (PST)
Patient Experience
How does pre and post care affect the patient experience, and what are the best ways to maximise positive outcomes?
Irie Selkirk, Luc van Poelje, Dr. Erica Zelfand, Psil Silva
20:55 (GMT) 15:55 (EST) 12:55 (PST)
Venture Capital & Funding
How are smarter companies raising capital, and what has the virus done to change the fundraising and IPO landscape?
Robert Laurie, Bek Muslimov, Richard Skaife, Marik Hazan, Florian Brand, Matthew Nordgren
21:45 (GMT) 16:45 (EST) 13:45 (GMT)
Crossing Over From Cannabis
What we can learn from, avoid and do better using what we know from the cannabis industry?
Patrick Moher, Henri Sant-Cassia, William Hilson, Will Kleidon, Deepak Anand
22:35 (GMT) 17:35 (EST) 14:35 (PST)
PTSD
How can we use psychedelics to prevent depression, suicide and poor outcomes for people experiencing extreme events or changes?
Riley Cote, Wyly Gray, Daniel Carcillo, Jesse Gould
23:25 (GMT) 18:25 (EST) 15:25 (PST)
CEOs
What are the biggest challenges and opportunities facings CEOs and founders as the industry explodes?
Judy Blumstock, Shlomi Raz, Ronan Levy, Payton Nyquvest, Srinivas Rao
00:15 (GMT) 19:15 (EST) 16:15 (PST)
Holistic Wellness
What can retreats and non-physician led therapies tell us about caring for and healing people rather than patients?
Kat Courtney, Ariel Jarvis, Paul Austin, Brandi Garden, Alexej Pikovsky
01:05 (GMT) 20:05 (EST) 17:05 (PST)
----------------------------------
DAY TWO - 15th April
Keynote/Fireside
Lessons from a lifetime in psychedelics.
Dennis McKenna
17:00 (GMT) 12:00 (EST) 09:00 (PST)
Science
How can we build patient safety into research, experiments, products and services from the ground up?
Christopher Timmerman-Slater, Matthew W. Johnson Ph.D, M.A., Deborah Mash Ph.D, Harsh Taneja, Thomas Anderson
15:35 (GMT) 12:35 (EST) 09:35 (PST)
CEOs
How crowded can the commercial space get without becoming a free for all where quality suffers and confusion reigns?
Todd Shapiro, Jonathan Sporn MD, Ph.D, Martijn Schirp, Jackee Stang
18:25 (GMT) 13:25 (EST) 10:25 (PST)
Capital Markets
Are IPOs the right route to capitalisation and how can companies ensure their public listings are done right?
JR Rahn, Grant Lawrence, Timothy Regan, James Lanthier, Shayne Nyquvest
19:15 (GMT) 14:15 (EST) 11:15 (PST)
Beyond Mental Health
Have we missed the cognitive enhancement and nootropic benefits of psychedelics due to mental health and addiction narratives?
Simeon Schnapper, Steve Sadoff, Tanja Schomann, Jonathan Glazer
20:05 (GMT) 15:05 (EST) 12:05 (PST)
Whole Plant VS. Synthetics
Are there tangible benefits to whole plant remedies or are synthetics the only way forward in terms of scale?
Alex Speiser, Ian McDonald, Dr. Darryl Hudson, Danny Motyka, Will Goss
20:55 (GMT) 15:55 (EST) 12:55 (PST)
Ibogaine & Addiction
What are the practical and legal barriers to bringing ibogaine addiction treatments to the widest possible number of addicts?
Jonathan Dickinson, Zappy Zapolin, Tobias Erny, Patrick Kroupa, Dana Beal, Dr. Alberto Sola
21:45 (GMT) 16:45 (EST) 13:45 (PST)
Going Mainstream
Is mainstream attention the best thing that could happen to the space, or the beginning of the road to hell?
Mark Haden, Dana Larson, Kevin Matthews, Shane Mauss, Justin Townsend, Sarah Siskind
22:35 (GMT) 19:35 (EST) 14:35 (PST)
The Mushroom
What can the mushroom family teach us and what can did our ancestors know which we may have forgotten?
Paul Stamets, Eric Osborne, Dr. K Mandrake, Gary Costner, David Kurth
23:25 (GMT) 18:25 (EST) 15:25 (PST)
Communicating Psychedelics
How is language, messaging and approach crucial to building the right narrative for investors, patients and the public?
Susan Chapelle, Frank Lane, Alex Krause, David Grillot, Lewis Goldberg
00:15 (GMT) 19:15 (EST) 16:15 (GMT)
Philanthropy
How can philanthropy from mainstream figures combat psychedelic stigma and drive research to fill the huge gaps we don't even know we have yet?
Dick Simon, Tanja De Jong, Patrick Moher
01:05 (GMT) 20:05 (EST) 17:05 (PST)
CONFIRMED SPEAKERS
Leveraging our global network, we have speakers from amongst the leading scientists, researchers and CEOs in the psychedelics industry. Look out for more speaker announcements over the coming days as we add to the roster.
Keynotes/Firesides
"Psychedelics: therapeutic mechanisms." - Robin Carhart-Harris
Robin is Head of the Centre for Psychedelic Research, Division of Brain Sciences, Faculty of Medicine, Imperial College London.
"Lessons learned from a lifetime in psychedelics."- Dennis McKenna
Dennis is a psychedelic luminary, who has founded the McKenna Academy for Natural Philosophy the first psychedelic university in 1500 years, since the Temple of Eleusis was sacked by the Goths in 396 A.D.
Regulation & Law
João Taborda da Gama - Lawyer, policy advisor, law professor, founding partner of Lisbon based Gama Glória, and a senior advisor of the Albright Stonebridge Group in Washington DC.
Sam Chapman - Campaign Manager for the Yes On IP 34 Campaign (aka the Psilocybin Services Initiative) in Oregon, to create the first ever state wide regulated Psilocybin therapy program in the United States.
Jack Lloyd - Toronto cannabis lawyer, editor at Green Candy Press, he works with Tousaw Law Corporation, and is a leading psychedelic medicine advocate.
Aaron Genuth - Founder of Darkhei Rephua, a nonprofit dedicated to entheogenic plant medicine education and intersectional outreach in New York City, and co-founder of Decriminalize Nature NYC.
Ryan Munevar - Co-founded Monterey County NORML(National Organization for the Reform of Marijuana Laws) in 2013. He set up Decriminalize California to make sure that psychedelic mushroom lovers were properly represented.
Science
Natalia Vorobyeva - Geneticist and neurophysiologist with extensive global research connections. Background in molecular mechanisms of memory and immunogenetics and anti-ageing research. 
Jan Ramaekers - Professor in psychopharmacology at Maastricht University, his works in psychopharmacology, forensic toxicology and cognitive neuroscience to determine drug induced changes in human performance.
Jeremy Weate PhD – On the board of Universal Ibogaine, which will IPO as Clear Sky Addiction Solutions later this year ahead of phase II ibogaine trials. He served as Executive Director of the Global Ibogaine Therapy Alliance.
Dr. Matthew Cook - A board-certified anesthesiologist who has completed a fellowship in functional medicine. His practice, BioReset™ Medical, provides treatments for conditions ranging from pain and complex illness to anti-aging.
Vince Polito - Senior Research Fellow in the Department of Cognitive Science at Macquarie University in Sydney. His research investigates cognitive and neurological changes in altered states of consciousness.
Technology
Sarah Hashkes - CEO of Radix Motion, focused on increasing wellness and productivity by combining neuroscience and virtual reality with a masters in Cognitive Neuroscience.
Nikolai Vassev - CEO of Mindleap Health a platform for psychedelic aftercare and new forms of medicine. He led data analytics and cybersecurity projects for Fortune 500 companies, and the US and Canadian Governments.
Anil Seth - Professor of Cognitive and Computational Neuroscience at the University of Sussex and Founding Co-Director of the Sackler Centre for Consciousness Science.
Tyler Bryden - CEO of Sessions.ai. He is focused on extracting meaningful insights from personal journals and recorded sessions to help improve psychedelic research, therapy, and knowledge mobilization.
Stacey Wallin - Co-founder of Numinus with a background in scaling tech companies. Her inspiration for founding the company came after a series of near-death experiences related to illness and misdiagnosis.
Robin Arnott - CEO of Andromeda Entertainment, a game designer and public speaker in consciousness technology. He is the lead developer of SoundSelf: A Technodelic, where technology can profoundly impact player consciousness.
Moderator
Dr. Alex Theory - CEO/Founder of Sensync. He specializes in digital therapeutics, virtual psychedelic experiences, and the impact of synchronized sensory stimulation on the human nervous system.
Ethics
Jerry Brown Ph.D. - Anthropologist, activist, coauthor of The Psychedelic Gospels, and Director of the World Business Academy which cofounded JUST Capital, as a nonprofit research group and Goldman Sachs ETF.
Shelby Hartman - Co-Founder and Editor-in-Chief of DoubleBlind, the psychedelics media company. Her work has appeared in VICE, Quartz, the Huffington Post, and Rolling Stone, among others.
Mia Cosco - Supports wellness companies by working closely with executives of mid-level market companies to make their visions a reality. She also fundraises for Cosmic Sister and MAPS Canada, and is the founder of Psychedelic Salons.
Marta Kaczmarczyk - A co-founder of the Psychedelic Society of the Netherlands, an Assistant Facilitator at Synthesis, a co-founder of the Guild of Guides, and a consultant for Embodying the Mind and for the Longevity Center.
Daan Keiman - Holds an MA in Spiritual Care and has years of professional experience working in mental health and addiction care. He is the co-founder of Guild of Guides Netherland: professionalizing psychedelic sitting services.
Patient Experience
Luc van Poelje - Co-founder & lead facilitator at Psychedelic insights, founder of Safe Spaces Amsterdam, he also ran a private health service (de Oplaadfabriek) based upon more meditation, less medication.
Irie Selkirk - Founder of Rise Wellness Retreat and currently acts as Chief Communication Officer for SheCann Cannabis, a medical cannabis patient group.
Dr. Erica Zelfand (aka "Dr. Z") - An integrative family physician, medical writer/editor, and teacher. She was one of North America's first providers to pursue above-board training in MDMA-assisted psychotherapy with (MAPS).
Psil Silva - The creator of Psilocybin Stories, bringing you a range of psychedelic experiences and reflections to spread awareness and education on the benefits and safe use of psychedelics.
Venture Capital & Funding
Richard Skaife - Co-Founder of Cobidol Group and a Founding Partner at TCF VC. Previously held CEO & partner roles in tech venture capital & is a mentor for the U.Ks leading social impact charity.
Bek Muslimov - a founding partner at Leafy Tunnel, an investment firm dedicated to investing in early-stage companies focused on bringing plant-based therapies into mental health and palliative care markets.
Robert W.E. Laurie - International Lawyer, AD LUCEM LAW CORPORATION and serves as a Board Advisor to the Multidisciplinary Association for Psychedelic Studies (MAPS) Canada and Steve DeAngelo's Last Prisoner Project.
Marik Hazan - Co-Founder of Tabula Rasa Ventures - a community-led investment firm focused on financing and supporting a more equitable, diverse, and compassionate psychedelic ecosystem.
Florian Brand - Co-Founder and Chief Executive Officer of ATAI Life Sciences AG, as well as a Seed and Series A investor in COMPASS. His prior experience includes Rocket Internet, Allianz Tanzanian German Program to Support Health.
Matthew Nordgren - Founder and Managing Partner at Arcadian Fund Management and Arcadian Capital Partners, a venture fund focused on the ancillary service providing companies in and around the cannabis and hemp industries.
Crossing Over From Cannabis
Henri Sant-Cassia - Co-Founder of CBD Virtue, and a Founding Partner at TCF VC. He is also the Chairman of The Cannabinoid Trust as well as advisor to Percuro the animal wellness company.
Patrick Moher - Running the world's first psychedelic PR company has given him insights which have built on his extensive cannabis company experience, helping to bridge the gaps between science, business and the public.
Will Kleidon - CEO of Ojai Energetics, a triple bottom line driven cannabis technology company with a primary focus on the organic and science-driven nutraceutical and medical sectors.
Deepak Anand - Currently serves as the co-founder and CEO of Materia Ventures, a European-focused supply and distribution company for medical cannabis and CBD products.
William Hilson - Former Chief Commercial Officer, Cronos Group Inc. He pharmaceutical executive with a track record of driving business objectives, growth and efficiency, mitigating risk and increasing bottom-line profit.
PTSD
Daniel Carcillo - After retiring from professional hockey, Daniel founded Chapter 5 Foundation, a charitable organization that helps athletes transition into life after the game, where he now uses entheogenic plant healing.
Wyly Gray - United States Marine, public speaker, the Founding Director of Veterans of War, he passionately believes that entheogenic plants and fungi offer a unique path towards healing from trauma.
Riley Cote - After 8 years of professional hockey, his hard style of play eventually took its toll so integrated different plant medicines in his recovery of post-concussion syndrome, PTSD and substance abuse issues.
Jesse Gould - A pioneer in psychedelic therapies. As Founder and President of the Heroic Hearts Project, he has spearheaded the research and acceptance of ayahuasca therapy programs for military veterans.
Sarah Stenuf - Served 4 yrs & 1 deployment in the U.S. Army, prior to being medically retired for epilepsy from a TBI & PTSD. Sarah's mission is to educate others about post-service issues & eradicate veteran suicide.
CEOs
Payton Nyquvest - Founder, Chair & CEO of Numinus. A former Director, VP and Head of Sales at Mackie Research Capital, he has raised over $100M for 100+ public and private companies and facilitated numerous IPOs.
Ronan Levy - Co-founder of Field Trip Psychedelics, a partner at Grassfed Ventures, a venture capital and advisory firm focused on the cannabis and biotech industries and a director for Trait Biosciences Inc.
Shlomi Raz - founder of Eleusis, oversees the company's corporate and clinical development effort. Prior to founding Eleusis, Shlomi was a Managing Director at Goldman Sachs, and began his corporate career at JP Morgan.
Judy Blumstock - 25 years of experience in the life science sector, spanning from early to late stage investments. She is currently at TIAP, an early stage academic incubator in Toronto and CEO of Diamond Therapeutics.
Srivinas Rao - CEO of EntheogeniX. Dr. Rao has over 19 years experience in the pharma and biotech industries. He received his Ph.D. in neurobiology from Yale Graduate School and his M.D. from Yale School of Medicine.
Holistic Wellness
Paul Austin - Paul F. Austin is an entrepreneur, public speaker, and educator, founder of Third Wave and Synthesis, he has been featured in the BBC, Forbes, and Rolling Stone.
Kat Courtney - CEO of The Afterlife Coach, she has worked with Ayahuasca for 14 years, with a decade as a shamanic apprentice. She has trained as a Master Herbalist and works as a Psychedelics and Ayahuasca Coach.
Brandi Garden - A seasoned public school educator, yogi, and co-founder of Eversio Wellness, a Canadian start-up company passionate about product development focussed on mental health, awakening consciousness, and cognitive enhancement.
Ariel Jarvis - Owner/Operator of Vitality Wellness Center in Langley B.C., Natural Health Practitioner, Registered Holistic Nutritionist, Certified Microscopist, Iridologist & Sclerologist, Certified in Herbs & Chinese Medicine.
Alexej Pikovsky - CEO of Alphagreen Group , a data-driven marketplace for wellness products in the UK and Europe. He was as an investor for a large-cap private equity fund and a family office where he ran the venture capital operations.
----------------------------------
Science (2)
Harsh Taneja - One of the few sector scientists in India, he has a Masters in Clinical Psychology with a penchant for research in psychedelics and its psychological constructs. He brings many years of experience from the lab and the clinic.
Deborah Mash - One of the world's foremost experts on ibogaine. She is the CEO and Founder of DemeRx Inc., a clinical stage drug development company advancing the treatment of opioid use disorder.
Christopher Timmermann-Slater - a psychologist educated at the Catholic University of Chile with a Masters in Neuroscience and Neuropsychological Therapy from the University of Bologna.
Matthew W. Johnson, PhD - Professor at Johns Hopkins, is an expert on psychedelics, other psychoactive drugs, and addiction. Dr. Johnson has published 119 papers, including 47 manuscripts focused on psychedelics.
Thomas Anderson - Cybin Corp's Clinical Advisor, he is Research Director and Co-founder of the Psychedelic Studies Research Program (PSRP) at the University of Toronto and the Toronto Centre for Psychedelic Science (TCPS).
CEOS (2)
Todd Shapiro - CEO of Red Light Holland which plans to generate revenues by providing recreational grade truffles and potentially EU-GMP medical grade truffles to the current adult use market in the Netherlands.
Jonathan Sporn MD PHD - Co-Founder of Gilgamesh, the drug design company with several psychedelic research tracks, he has worked at Pfizer, Perception Neuroscience, Johnson & Johnson and Click Therapeutics.
Martijn Schirp - Co-founded Synthesis in 2017. He is currently the executive director of an international team of 40 individuals who aim to make psychedelic tools accessible in a safe, legal, and modern context.
Jackee Strang - Co-founded Delic Corp., a company focused on "destigmatizing psychedelics for a mainstream audience, producer of the Bulletproof podcast and worked at the High Times.
Capital Markets
JR Rahn - CEO of MindMed, is a former Silicon Valley tech executive who worked in market expansion and operations at Uber. After leaving Uber, he was backed by the Silicon Valley tech accelerator Y Combinator for his company Upgraded.
Grant Lawrence - An active Angel investor in the space, he is a Founder of Valhalla Private Capital and as President of Valhalla Angels Kelowna and Co-President of Valhalla Angels Vancouver, Canada.
Timothy Regan - VP, Capital Markets at KCSA Strategic Communications. He Co-heads their psychedelic and entheogen practice focused on investor relations and investor messaging.
Shayne Nyquvest - CEO of Universal Ibogaine. He is the former Executive Vice President of Mackie Research Capital and a founding member of the Canaccord Genuity Group.
James Lanthier - A seasoned technology executive with strong expertise in business building and corporate finance. In the past he was founder and COO at Mood Media Corporation, and currently a co-founder at Future Fertility.
Beyond Mental Health
Dr. Tanja Schomann - CEO and co-founder of PSYx, the 'Systemic Psychedelic'. The World's 1st platform to future-fit leadership, innovation and (global) systems through PsychoActive Technologies.
Steven Sadoff - CEO and Co-founder of Sansero Life Sciences, developing psilocybin-based pharmaceuticals designed to replace current antidepressants and ADHD medications.  
Simeon Schnapper - A life-long student of Psychedelics exploring the cultural, regulatory, and the venture landscape of the mushrooming industry. He has traveled the globe learning and living with indigenous communities.
Jonathan Glazer - Co-founder of the Thank You Plant Medicine global grassroots movement to destigmatize entheogenic plants and psychedelics, uniting people from over 68 countries and 110 global organizations.
Charley Wininger - Has been a psychotherapist in private practice since 1989. Licensed as a Psychoanalyst as well as a Mental Health Counselor. He and his wife Shelley have been instrumental in building the NY MAPS community.
Whole Plant vs Synthetics
Ian McDonald - CEO of Bright Mind Bioscience, a Canadian biotechnology company developing new psilocybin drug for mental health treatment. Previously he served on the management team at Avnel Gold.
Alex Speiser - COO of Orthogonal Thinker, a multidimensional wellness platform dedicated to individual and collective well-being via psychoactive compounds and clean label products.
Dr Darryl Hudson - Co-founder of Sansero Life Sciences Inc., a psychedelic pharmaceutical company based in Canada. He has a PhD in molecular biology and genetics specializing in the genetic engineering of crop plants.
Will Goss - Former lead grower for Monterey Mushrooms Inc., and MycoWorks. Currently the Mycology Director of the California Psilocybin Decriminalization Initiative 2020, and Chief Technology Officer for MycoSystemics.
Danny Motyka - CEO of Psygen Labs Inc. and former General Manager at Aurora Cannabis after graduating from the University of Victoria with a BSc in Chemistry (honours).
Ibogaine & Addiction
Jonathan Dickinson - a counselor and consultant who has been working with iboga and ibogaine in Canada, Mexico, and Costa Rica. He currently works under a private practice, Ceiba Ibogaine Therapy, in Tijuana.
Patrick Kroupa - Co-Founder of the Clear Sky clinic in Cancun, the world's largest and oldest medically-based ibogaine treatment provider. He has worked with ibogaine for over 20 years.
Dr. Alberto Solà, BSc, MD - Universal Ibogaine's President has the distinction of having treated more patients with ibogaine than any other person in the world. He graduated from Universidad Anahuac.
Tobias Erny - Educated in the pharmaceutical and chemical industry of Basel, author of the german book: "Iboga - mystical entheogen and traditional plant medicine from africa". Facilitator, organiser and consulter in the Iboga realm.
Zappy Zapolin - Winner of the Amsterdam Film Festival's Van Gogh award for his documentary film "The Reality Of Truth", he co-founded the "Ketamine Fund" a nonprofit which gives away ketamine treatments to bring down suicide rates.
Dana Beal - an American social and political activist, best known for his efforts to legalize marijuana and to promote the benefits of Ibogaine as an addiction treatment. He is a long-term activist in the Youth International Party (Yippies).
Going Mainstream
Dana Larsen is one of Canada's most well-known and respected advocates for cannabis reform and an end to the global war on drugs. He opened the world's first microdosing mushroom dispensary, selling microdoses by mail-order.
Mark Haden - Adjunct professor at the University of British Columbia School of Public and Population Health and Chair of the board of MAPS Canada (Multidisciplinary Association for Psychedelic Studies).
Shane Mauss - His MAPS sponsored solo show, 'A Good Trip', earned Shane a large following. He has appeared on Comedy Central, Jimmy Kimmel Live, Showtime, BBC, Epix and has 5 appearances on Conan.
Kevin Matthews - Executive Director of SPORE, Kevin believes that SPORE is a vehicle to organize the psychedelic constituency into a unified community in order to create the foundation for equitable psychedelic reform.
Justin Townsend - Brings a blend of business acumen, leadership skills and a nose for futuristic health models to the MycoMeditations team. His broad experience both professionally and personally give him valuable insights and perspectives.
Sarah Rose Siskind - Host of "Drug Test," a monthly live science comedy show about psychedelics that was recently written up in The New Yorker. She's a psychedelic comedian who has performed at functions for MAPS and The Assemblage and more.
Moderator
The Mushroom
Paul Stamets - Speaker, author, mycologist, medical researcher and entrepreneur, is considered an intellectual and industry leader in fungi: habitat, medicinal use, and production. He lectures extensively to deepen the understanding and respect for the organisms that literally exist under every footstep taken on this path of life.
Dr. K Mandrake - Ph.D. in mushroom botany, co-author of The Psilocybin Mushroom Bible, now researching the medicinal qualities of psilocybin. He works as a consultant for commercial mushroom producers around the world.
Eric Osborne - Founder at MycoMeditations, the 1st Indiana State Certified Wild Mushroom Expert, a cultivator and founder of the non-profit PLEDG, (Psychedelic Liberation Education Discipline and Guidance).
David Kurth - CEO of The Sporing Company, David has a 25 year background in Sales and Marketing with experience in many industries including retail analytics, security, and cannabis.
Gary Costner - A psychonautic explorer striving to revolutionize myco-cultivation infrastructure, enabling access for all. He has worked with DARPA's Polymorphic Computing Architecture project.
Moderator
Simeon Schnapper
Communicating Psychedelics
Susan Chapelle - Serial entrepreneur and former city councillor in Squamish, BC. She is a speaker on cities, health and technology, and has published research funded by the National Institute of General Medical Science.
Lewis Goldberg - Managing Partner at KCSA and oversees the firm's public relations practice. He works to implement eminence, thought leadership, and PR programs designed to build business and garner fairer valuations.
Frank Lane - CEO at CFN Media, the media network for the emerging cannabis and CBD markets. Before launching CFN Media in 2013, Frank spent the previous 15 years disrupting financial media.
Dave Grillot - Co-founder of the Thank You Plant Medicine movement, currently supported by over 900 volunteers, aiming to de-stigmatize plant medicines and psychedelics, and responsibly integrate them into society.
Alex Krause is the Lead Publicist / "Media Maestro" at Alan Aldous a communications agency specializing in emerging cannabis and psychedelics markets public relations.
Moderator
Jonathan Glazer
Philanthropy
Dick Simon - Entrepreneur, social enterprise philanthropist and catalyst for change. He currently helps organizations pursuing FDA and European Medical Association clinical trials of psychedelic medicines for mental health issues.
Tania de Jong AM - Executive Director and co-Founder of Mind Medicine Australia, and a trail-blazing soprano, global speaker, award-winning social entrepreneur and philanthropist.
Ashley Lukens - Executive director for Frost Family Foundation. She works in sustainability, environmental protection, community organizing, and philanthropy. She also leads The Clarity Project in Hawai'i.
David Bronner - Cosmic Engagement Officer (CEO) of Dr. Bronner's, the family-owned top-selling natural brand of soap in North America. He joined the board of MAPS in 2015.
Joe Green - Co-founder and President of the Psychedelic Science Funders Collaborative (PSFC), a donor network that supports research and clinical trials of physician-prescribed psychedelic medicines.
Moderator
Patrick Moher
----------------------------
Closing Keynote
Rick Doblin, Ph.D. - The founder and executive director of the Multidisciplinary Association for Psychedelic Studies (MAPS). His professional goal is to help develop legal contexts for the beneficial uses of psychedelics and marijuana, primarily as prescription medicines but also for personal growth for otherwise healthy people, and eventually to become a legally licensed psychedelic therapist.
OUR SPONSORS
Our sponsors are an exclusive group of industry leaders and start-ups. We are proud of our association with:
Leafy Tunnel
The Conscious Fund
Numinus
Cybin
Gilgamesh
Field Trip
ATAI
Eleusis
Third Wave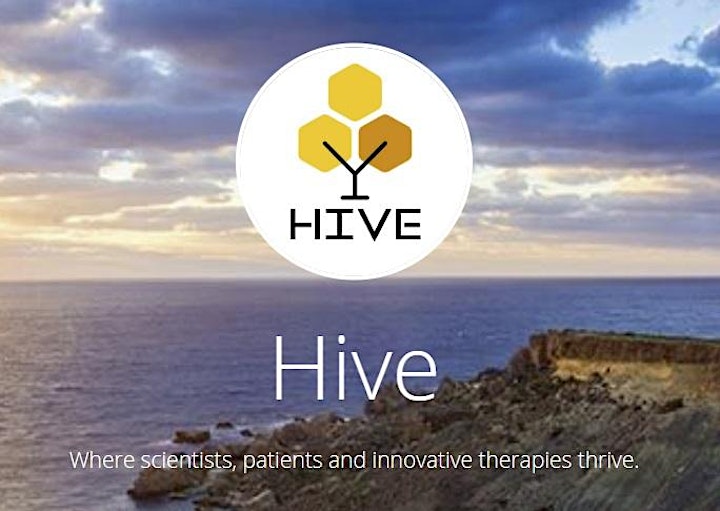 HIVE.BIO - LEAD SPONSOR
Hive is at the forefront of the European psychedelic medicine revolution, a unique blend of scientific research and patient therapeutics. It is open to qualifying investors and strategic partners only. Please visit www.hive.bio to register your interest.
COMMUNICATIONS PARTNER
Alan Aldous is a public relations agency for the emerging cannabis and psychedelics markets led by leading Canadian cannabis media professionals. The agency works with all the major newswire distribution services across North America, which makes transitioning to Alan Aldous easy for companies with existing PR efforts.
MEDIA NETWORK PARTNER
CFN Media is a leading agency and financial media network dedicated to the cannabis industry. We help private, pre-public and public cannabis companies in the US and Canada attract capital, investors and media attention.

MEDIA PARTNERS
We are working with the industry's most informed media platforms, including:
Psychedelic Finance
The Trip Report
Third Wave
The Wellness Agency
And many more to come...
PAST EVENTS
We have held several Investment Summits across Europe, including London, Malta and Luxembourg. We have hosted 300+ investors and international cannabis and psychedelics companies. Investors including UHNWIs, Family Offices, and VCs with a combined AUM of €15bn+ attended our events to meet founders and source investment opportunities.
SPECIAL EVENTS
Exclusive Investor Briefings
For Premium ticket-holders, 1-on-1 meetings are a chance to meet active investors pursuing opportunities in the space. Pairing decades of venture capital expertise, our team will ensure pairings are relevant and useful.
Premium ticket holders can select one of the following categories to be paired with:
Researchers
Psychedelics Companies
Investors
TCF will choose the pairing and leave the two parties to schedule the call at the end of the conference. All speakers and sponsors will agree to participate in 1-on-1s by virtue of their involvement.
TICKETS
All tickets are offered on a first-come first-served basis.
If you are an accredited member of the press, please contact us.
BECOME A SPONSOR
Sponsors present and showcase their companies to our diverse network of investors, including UHNWIs, Family Offices, VCs, PEs and other Funds.
Selected sponsors have the unique opportunity to gain access to our full digital marketing and PR suite, placing their brand in front of 110,000+ customers, decision-makers and influencers.
Leading sponsors will also have the opportunity to personally connect with investors and multinational corporates through 1-on-1 investor briefings. Please email info@tcf.vc for further details.
Date and time
Location
Refund policy
Contact the organiser to request a refund.
Eventbrite's fee is nonrefundable.