Virtual Ramadan - Mississauga
About this event
This free unique experience does not require you to fast.
Virtual Ramadan is an event being organized by the Ahmadiyya Muslim Jama`at of Mississauga to provide members of community to celebrate Ramadan with fellow Muslims "virtually". Amidst the rise of COVID-19, along with the need for social distancing, this is going to be an interactive and creative way for individuals to experience Ramadan. You are invited to attend this special session with residents of Mississauga!
This event allows all Mississaugians and surrounding communities to participate with their fellow Muslim friends and neighbors in the month of Ramadan and experience the joys of opening our fast virtually along with understanding the importance of fasting and sacrifice.
The event will also have a unique element of giving you an opportunity to experience how to start, keep and break a fast, done from the comfort of your home. We will also be joined by Guest of Honor, Mayor of Mississauga and some esteemed guests.
We would love if you us and looking forward to being with you, virtually!
More than a billion Muslims across the world partake in a spiritual journey to fast for the special month of Ramadan. This consists of waking up before sunrise every day to pray and start the fast. Muslims then refrain from eating and drinking anything until sunset – not even water! Moreover, during Ramadan, Muslims place a special emphasis to avoid doing anything that would hinder their spiritual well-being, such as quarreling, swearing, lying, backbiting, etc.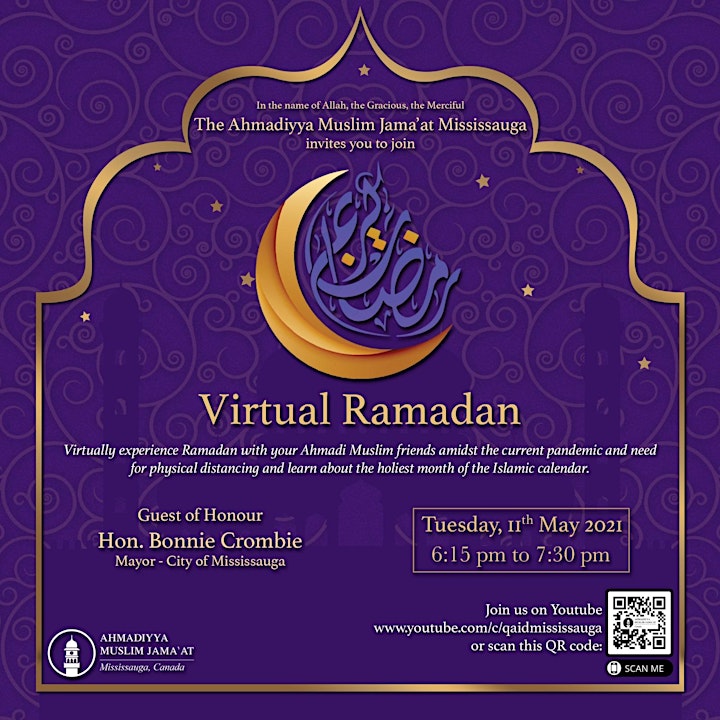 The Ahmadiyya Muslim Jama`at is a dynamic, fast growing international revival movement within Islam. Founded in 1889, it spans over 206 countries with membership exceeding tens of millions. The Ahmadiyya Muslim Jama`at is the only Islamic organization to believe that the long-awaited Messiah has come in the person of Hazrat Mirza Ghulam Ahmad (peace be upon him) of Qadian, India. He claimed to be the metaphorical second coming of Jesus of Nazareth (peace be upon him) and the divine guide, whose advent was foretold by the Founder of Islam, Prophet Muhammad (peace and blessing of God be upon him). The Ahmadiyya Muslim Jama`at believes that God sent Ahmad (peace be upon him), like Jesus (peace be upon him), to end religious wars, condemn bloodshed and reinstitute morality, justice and peace.