Description
Experience an amazing 45-minute session of guided relaxation using virtual reality technology to reduce stress and boost your wellbeing.
D-Stress VR offers mini-vacations for the mind & body in breathtaking virtual worlds!
Feel relaxed, refreshed and rejuvenated!
Space are limited, reserve now.
For a complete immersive experience, bring your smart phone headset.
You will walk away feeling relaxed, refreshed and energized
Reserve your seat https://www.eventbrite.ca/o/d-stress-vr-inc-19794106577
*Presented in English
---
About D-Stress VR Inc.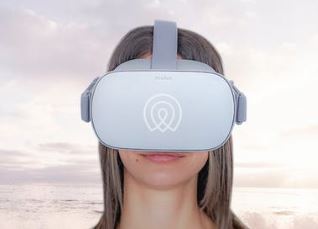 Without proper management, stress can severely affect our health, motivation, personal and professional life.
D-Stress VR is on a mission to help Montrealers take control of their wellbeing and significantly reduce stress levels. With this newly developed program, each session will feel like a mini-vacation for your mind & body!
Sessions are held in small groups and combine the power of virtual reality, mindfulness and human connection to create an amazing 45-minute relaxation program.
Each session will have a positive impact on your wellness level!
---
What is Sous les projecteurs?
We know that staying up to date on today's big ideas and tomorrow's big trends is a job in and of itself.
As the world's first working, learning and growing store – we are excited to introducing Sous les projecteurs: a new community gathering and learning space. Sous les projecteurs will engage communities with knowledgeable experts to both inspire, inform, motivate and educate.
Sous les projecteurs is a space accessible to persons that use mobility devices. We encourage people from all backgrounds to participate in our public programming