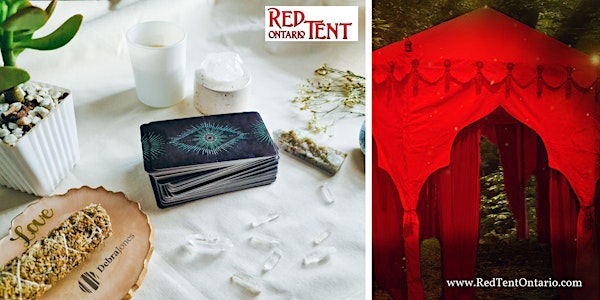 (Virtual) Red Tent - Oct 22nd
Welcome to the Red Tent. We've been expecting you! Join your Red Tent sisters in circle.
Refund Policy
Contact the organizer to request a refund.
Eventbrite's fee is nonrefundable.
About this event
Do you include RITUAL in your life? Rituals are mindful habits that assist in your renewal, keep you grounded and empowered by invoking a comforting sense of familiarity and structure.
Red Tent is a ritual enjoyed by women all over the world, establishing community, and promoting feminine bonding.
This is a safe, online space for women to be in circle together.
When women feel that they belong in a community that loves and supports them, they thrive.
All women are welcome. If your heart calls you to join us, please come. You'll be met with loving acceptance.
Join Red Tent Ontario founder, Debra Jones, and your Red Tent sisters.
Guidelines:
Women only
Ensure you're in a quiet, sacred space where you'll be undisturbed
Bring along something to drink
Show up on time & stay for the duration
Every woman must attend using video
No image capturing or video recording permitted
Whatever's shared in the Red Tent stays in the Red Tent
Every woman to agree to our Red Tent Principles HERE
The Red Tent circle is a 'safe container' for women to be 100% AUTHENTIC.
Within this safe space, it's OK to be vulnerable, to take off your mask, to be the real 'you.'
There's no judgment or expectation but a loving, accepting circle of sisters holding space for you to live, heal, and grow. Just hearing your own voice speak so that others may hear, empowers you. When a woman finds her voice, she finds her power. You are listened to, no matter how weak or strong your voice.
HOW TO ACCESS THE RED TENT
Use your smartphone or computer camera to join the ZOOM gathering.
ACCESS the Red Tent via your online ticket - 10 mins prior
CAN'T ACCESS THE RED TENT? Tickets are purchased via Eventbrite. Please make a note of your Eventbrite login email and password as you will need to be logged in to enter the (Virtual) Red Tent. Your ticket is automatically linked to the Zoom meeting and becomes active 10 minutes before we open the tent flaps. If you cannot access the Red Tent at that time, please email info@debrajones.ca to request the Zoom link. THANK YOU!
RED TENT ONTARIO IS A PROUD SUPPORTER OF
2021-2030 Decade of Healthy Ageing - World Health Organization (WHO)
Red Tents In Every Neighborhood
RedTentMovie.com
RedTentDirectory.com
Own The Grey podcast