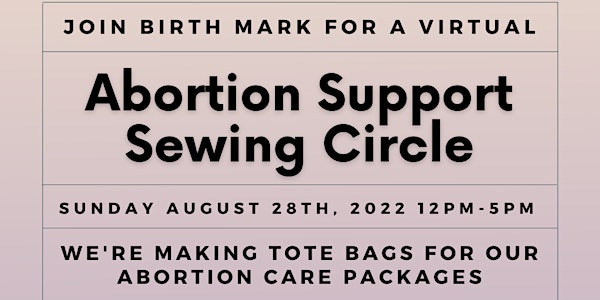 Virtual Sewing Circle
Join us for a Virtual Sewing Event!
About this event
Thanks to an Oxfam Canada grant, Birth Mark will be making and distributing care packages for folks having abortions in our communities. These will include needed and wanted items packaged with love in a handmade donated tote bag!
Join us for a 5 hour virtual sewing circle, where we will make these tote bags together with our own sewing machines from the comfort of our own homes.
We will also be sharing information and resources on abortion as we sew! Please feel free to bring questions or discussion topics about abortion support and reproductive justice for discussion.
Materials you'll need (since this is a virtual event you'll need to supply these yourself)
Sewing Machine OR needle and thread (if you prefer hand stitching)
3-6 feet of Fabric thick enough that you can't see items through it (See below for tote bag dimensions)
Thread
Scissors
Measuring Tape
Pencil / Fabric Marker
Optional Materials (Helpful, but not required)
Sewing Pins
Trim or Strapping for Bag Handles
Iron
Our tote bags will need to be at least 12 inches across x 2 inches deep x 14 inches tall.
If you have enough material, and would like to make your totes slightly larger, that is OK too! Feel free to create your own design or pattern, but if you would like layout suggestions, see the picture below.
Any questions about bag construction can be answered during the sewing event, so don't feel you need to be an expert seamstress to attend!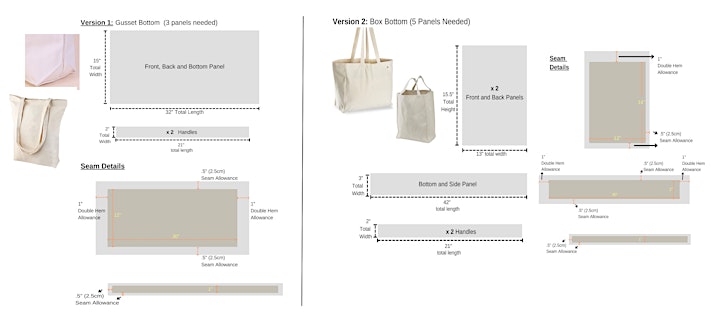 We invite participants to bring articles, book passages, poetry, or any other reading material that relates to abortion support, reproductive justice, or emotional wellbeing. For those interested in sharing with the group, we will invite you to read your chosen material aloud (if you want to!) for everyone to enjoy and discuss. Let us know if you are interested in participating!
Once your tote bags are finished, these are the options to get them to us for donation:
Schedule a drop-off at our Downtown Toronto Office or a Hamilton location (we'll share this with folks who need it!)
Add your name to our Toronto or Hamilton pick-up lists
Mail your bags to us in Toronto (unfortunately we can't cover shipping costs)
Contact us to coordinate if you're unable to do any of these!
Please note: This event is open to anyone located anywhere but if you are outside Toronto or Hamilton, Ontario, and want to participate we will just need to coordinate a way to get the bags to us. We'd love to have you join us though!