Virtual Speed Mentoring: Building Resilience
Sales Have Ended
Ticket sales have ended
Registration for this event is now closed. Please email BC@wct-fct.com to get added to the waiting list.
Sales Have Ended
Ticket sales have ended
Registration for this event is now closed. Please email BC@wct-fct.com to get added to the waiting list.
Build your resilience and take charge of your career with help from our mentors
About this event
** Last few spots available, don't miss out!**
All of us will face challenging times throughout our careers, that can affect us both professionally and personally. Whether you're applying for jobs, adapting to a new role, dealing with conflict, or coping with stress, building your resilience will help you to overcome these hurdles and take charge of your career.
The great news is, you're not alone! Our incredible team of mentors are here to help! Join us at The Discovery Foundation and Women in Communications & Technology's Virtual Speed Mentoring Event on Tuesday, September 21st, and learn how some of BC's most successful women have coped with pressures in their careers and gone from strength to strength.
Resilience is a skill that you can nurture over time and use to help future-proof yourself for whatever curveballs life throws at you!
We are excited to announce some of your inspiring mentors- more to be announced!
If you are interested in joining the mentor team email bc@wct-fct.com
Virtual door prizes up for grabs!
Every attendee will have the chance to win one of two amazing door prizes. To enter, all you have to do is show up!
A free one-hour coaching session, with mentor Louise Lee - Certified Leadership & Life Coach
A free one-hour coaching session, with mentor Darrell Farrow, Career & Parenting Consultant and Principal Geologist at GeoStrat Consulting
What is speed mentoring?
A Speed Mentoring event consists of a series of short, round-table discussions facilitated by one volunteer mentor and up to three mentees.
Form new connections with both mentors and mentees from a diverse set of backgrounds
Explore how having a mentor could support you and your career
Gather a range of new perspectives on a challenge you are currently facing
How will speed mentoring work online?
Similar to how it would in person. After we all meet together, you'll be allocated to a virtual room with a mentor and up to two other mentees. You'll have 15 minutes to ask questions and hear advice from your mentor, then you'll have a new mentor for 15 minutes and so on.
Share your wisdom and experience by being a mentor yourself
Mentoring is a great way to share your wisdom and develop your own leadership skills. If you are interested in becoming a mentor, please email BC@wct-fct.com with a short bio about yourself.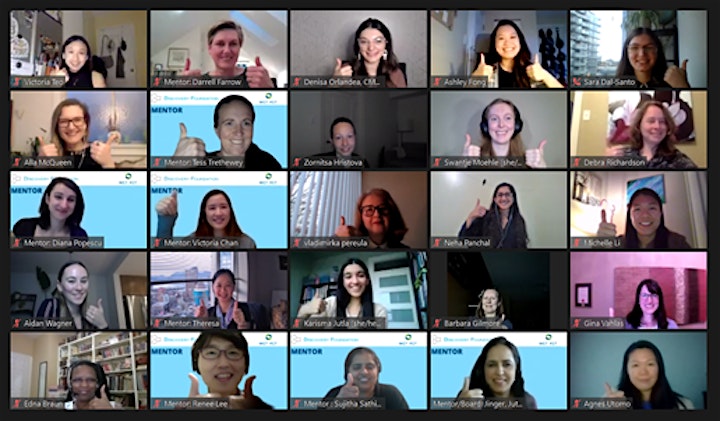 Discovery Foundation's Speed Mentoring Program in Collaboration with WCTBC, is an event series that seeks to provide informal mentoring opportunities to all women, trans and non-binary people working in communications and technology.
**Please note: we have a limited number of sponsored tickets set aside for anyone for whom funds are an issue. If you would like to learn more, please email BC@wct-fct.com.
Date and time
Location
Refund policy
Organizer of Virtual Speed Mentoring: Building Resilience
Women in Communications and Technology (WCT), is a national not-for-profit organization dedicated to the advancement of women in communications, media, information and technology. Headquartered in Ottawa, ON, WCT has chapters, such as ours, that build a coast to coast network that empowers women to achieve professional success.
The BC Chapter typically holds events in downtown Vancouver, BC and is focused on producing goal-oriented events that encourage building relationships, skills, and knowledge.
The WCTBC Board of Directors are:
Co-Chair: Andrea Wharram | 

Professional Services Leader - Western Canada, AWS 

Director: Fabiana Gennari | 
Founder/Principal, Wwisdom Leadership Studio 
Director: Seychelle Cushing | Director, Big Data Initiative, Simon Fraser University

The WCTBC Board can be reached at BC@wct-fct.com.