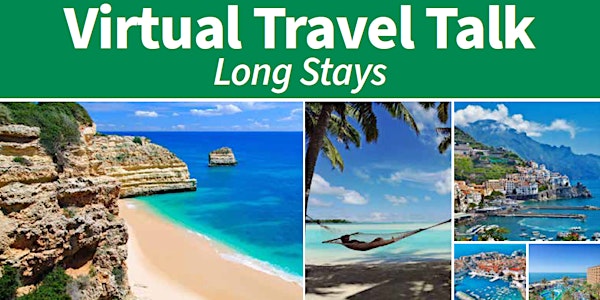 Virtual Travel Talk: Long Stays
Learn about our 2021/2022 Long Stays itineraries
Date and time
Thu, Jul 8, 2021 10:00 AM - 11:00 AM PDT
About this event
Join us on Thursday July 8th at 1pm EST, to hear all about our 2021/2022 Long Stays program.
Perfect for snowbirds, retirees, or anyone looking to escape Canadian Winter for up to 28 days at a time, Long Stays offer the opportunity to live like a local with the perks of a tourist.
Tune in as Jackie Moir from Merit Travel and Jeff Carpenter from our sister company TravelBrands take you on a tour through some of the beautiful destinations our Long Stays program has to offer, including Portugal, Italy, Malta, Spain, Croatia, Bali, and British Columbia!
You'll also hear all about the details that make Long Stays unique and immersive, such as local condo accommodations, day trips, and excursion opportunities.
Attendees will also have the chance to win a prize!
NOTES:
1. Once you've registered you will receive a confirmation email containing a Zoom link. The Zoom link is located at the very bottom of the confirmation email. Please use this link to join the event on July 8th
2. When you join the event, your camera will be off and you will be muted. This is in service of reducing noise and distraction while our hosts are speaking. There will be time for questions at the end, which you can type into the chat function.
3. While we welcome the attendance of guests from around the globe, Merit Travel is a Canadian travel company and our events are tailored to a North American audience.
About the organizer
Travel is our passion. We know an adventure isn't a vacation, it's a personal journey. A golf trip is a getaway, and a cruise is not a hotel on water. We deliver endless options and travel deals. From vacation home rentals ranging from luxury villas to city apartments, to vacation packages, budget holidays and travel insurance, turn to Merit Travel… for the experience.