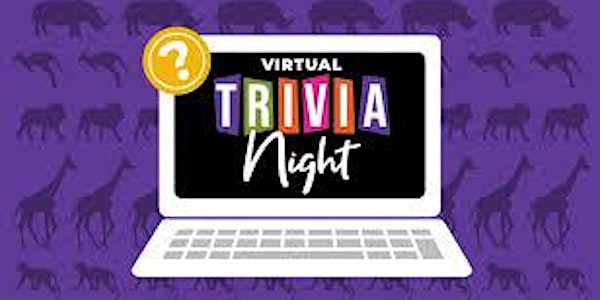 Virtual Trivia Night Sat. Nov 13th by Rotary St. Catharines Lakeshore
Refund policy
Refunds up to 30 days before event
Eventbrite's fee is nonrefundable.
Rotary St. Catharines Lakeshore On-Line Trivia Game . A fun night of 100 questions - $125/table of 8; singles $20/ticket.
About this event
Join Us for our Second On-Line Trivia Night!
Saturday November 13 2021.
NOTE: Trivia Log-In Starts at 6:30 pm. Trivia will begin at 7:00 pm sharp
A fun night of 100 questions designed by our own in-house team of quizmasters.
Compete for our Virtual Team High Score Trophy. Lots of door prizes available as well – names drawn at random so any player can win!
Only 20 Team Reservations Available!
Singles and smaller groups also welcome!
1. Teams can be up to a maximum of 8 people only. Cost: Flat fee of $125 per team.
Teams can all play from one house or your team can be in 8 different locations - we are on-line!
2. Single Tickets also available at $20 each for individuals and groups up to 7 players. Play as your own smaller group or we will make up tables of 8 from single/smaller group ticket registrations if you wish. Just let us know when you buy your ticket(s).
To purchase TEAM or SINGLE tickets, please use the Green "Tickets" link to the upper right on this page.
REMINDER: Trivia Log-In Starts at 6:30 pm. Trivia will begin at 7:00 pm sharp!
Q&A
How the evening works
Getting Ready
1. All player locations start the evening by signing into Zoom. Your team can play in any combination of 1 to 8 locations of your choice. NOTE: You will be asked for an email address for each location well before the event. Make sure each player location uses this email address to sign into the event.
IMPORTANT: Please ensure each player computer has Zoom downloaded and saved on their computer (go to https://zoom.us/support/download to accomplish this). If any are unfamiliar with the program, we strongly suggest they try it out well before the evening with the on-line YouTube tutorial "How to Join a Zoom Meeting" at https://www.youtube.com/watch?v=hIkCmbvAHQQ&list=PLKpRxBfeD1kEM_I1lId3N_Xl77fKDzSXe&index=2
2. You will be receiving an email well before the event requesting detailed Team information. Please send the following detailed Team information to rotarylakeshorestcatharines@gmail.com:
Team Captain Name and email address
Team Name (can be simple like Sandi's Team)
All team members names - for our door prize wheel
Email addresses of the locations that your players are playing from (ie. if two playing out of one location, only one email address is required) so we can send everyone the link.
IF A SINGLE TICKET(s), let us know if you wish to play as a Table with less than 8 persons, or wish to join in with others to make up a table. Just email us at rotarylakeshorestcatharines@gmail.com.
3. The main Zoom link for the event will be provided to each computer location/email address that you specify.
4. Assign one of your computer locations/players as the one to supply your Final Answers each round. Please make sure that player is familiar with the "Chat" function on Zoom. A link in The Chat Box will be used to provide a link to each rounds question answer sheet. NOTE: The answer sheet also includes a full list of all the rounds questions each round so you can discuss them further at your leisure (no need to write the questions down as they are asked).
IMPORTANT: Please ensure the answer computer is signed into their Google Account using their Google password.
The Trivia Evening Itself
NOTE: Trivia Log-In Starts at 6:30 pm. Trivia will begin at 7:00 pm sharp
1. As you log on, each location will be placed in a Zoom a waiting room for your on-line security. Please be patient as the Event Host will bring you into the main Zoom event one by one.
2. The Questions will be asked using a PowerPoint presentation with all players muted by the Event Host.
3. Each round, the Event Host will send all of your team computer locations into your own special Team "Breakout Room". Here you can all unmute and discuss the questions and finalize your answers. The easiest way for all to see the questions again is for the designated answer computer to put the answer sheet up on the screen and hit "Screen Share" on Zoom (normally at the bottom of the screen). All computer screens for your team should then see the answer sheet. However, only the designated answer computer will be able to fill in the answers and submit the sheet!
4. NOTE: Spelling is important as the answers are checked automatically. However, we do have a team of markers that will be rechecking your answers.
5. If you have problems at all when you are in the breakout room and need assistance, look for the Help Button to contact the Zoom host.
Ideas to make the Evening a more Enjoyable Experience
1. When playing with more than one player at a location - hook up your computer to your television using an HDMI cable.
2. NOTE: It is hard to play on phones and tablets due to their smaller screens.