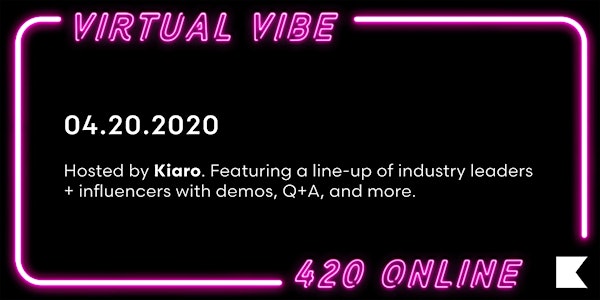 Virtual Vibe - 420 Online
Join us for a virtual 420 event, featuring some of our favourite cannabis brands and personalities.
About this event
We may be apart, but nothing can stop us from bringing the community together on 420 for the annual celebration of cannabis culture.
Join us for a virtual event hosted by Kiaro, featuring a lineup of leading brands, industry leaders and influencers. Virtual Vibe will showcase live retail store and greenhouse tours, a cooking demo, and a guided meditation - plus tutorials on safe consumption, cannabis accessories and sustainable production practices.
Special guest hosts include:
Register for the event now! You must confirm that you are 19+.
After you register, a second email will be sent to your inbox on the morning of April 20th with exclusive Zoom access for the #VirtualVibe event.
We look forward to celebrating with you!
#VirtualVibe #420online