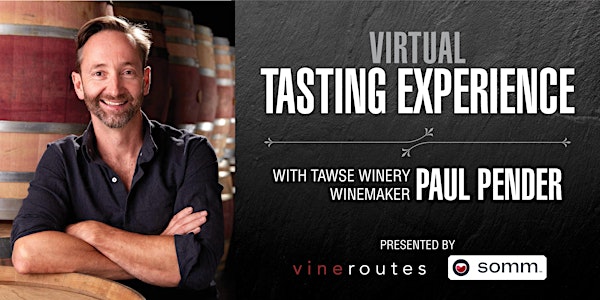 Virtual wine tasting with Tawse winery, presented by VineRoutes and Somm
Enjoy a Saturday evening tasting wine with Niagara winemaker Paul Pender from Tawse Winery. Presented by VineRoutes and Somm.
About this event
A wine tasting experience you don't want to miss!
Tawse winemaker, Paul Pender, will take us through three premium terroir-driven wines from Tawse's acclaimed portfolio.
Set your calendars for Saturday, June 12 at 7:30 p.m.
The format of the VineRoutes and somm™ presented virtual tasting is to be approximately one hour in length and is set to cover much more than just tasting notes. Participants will be guided through the event by somm's sommelier in residence Jordan Mazzanti, as well as Keegan Ferguson, the General Manager and Wine Director of the Paradise Entertainment Complex in Toronto, Ontario.
The wines being tasted and discussed are three wines from Tawse Winery – all single vineyard expressions that each convey that buzzword everyone loves to say but might not fully understand: terroir.
Tawse winemaker Paul Pender is the event's special guest and will help put the wines into perspective as well as share his own stories about the wine, the vineyards, and their inspiration. Participants are encouraged to purchase the three wines being tasted in advance so that they can actively participate in the experience. Please click here to purchase from Tawse direct (they will ship to you). Or, if you're in Toronto and wish to pick up curbside, you may do so by ordering here. (Please note: the wines are also available to purchase at the LCBO in Ontario.)
The three wines we'll be exploring:
-Quarry Road Chardonnay
-Quarry Road Riesling
-Cherry Avenue Pinot Noir
It isn't mandatory, but if you'd like to follow along, pre-order your wines by using the links below:
Osteria Rialto: https://order2.silverwarepos.com/app/OsteriaRialto#!/menu
Tawse Winery: https://www.tawsewinery.ca/products/28555-paradise-pack/
Or directly from LCBO.
Paul Pender (Special Guest):
Paul Pender has been head winemaker at Tawse Winery since 2006. Under his leadership, Tawse was named Canadian Winery of the year in 2010, 2011, 2012 and 2016. He also earned the title of Winemaker of the Year at the Ontario Wine Awards in 2011. Former carpenter and graduate of Niagara College's Winery and Viticulture program, Paul adopts a "non-interventionist as far as possible" philosophy. He is a firm believer that the start of every great wine begins in the vineyard and he is passionate about crafting wines that express a sense of place.
Led by Sommeliers:
Keegan Ferguson (Special Guest Host):
Keegan Ferguson is the General Manager and Wine Director of the Paradise Entertainment Complex in Toronto, Ontario. Paradise consists of Osteria Rialto; an upscale-casual Italian tavern, Bar Biltmore; an art-deco upscale rooftop cocktail bar, and Paradise Theatre; a 350 person capacity multi-disciplinary venue. Paradise's vision and venue was developed and is owned by Moray Tawse, founder of First National as well as, Tawse Family Winery in Niagara, Ontario. Keegan, along with his valued team at Paradise, strives to provide guests in each concept with a hospitality-first experience, allowing guests to explore their total senses through food, beverage, history and the arts. Keegan has received his diploma certification through WSET, and is a certified sommelier through the Court of Master Sommeliers.
Jordan Mazzanti
Working with somm since inception, Jordan believes in making wine more discoverable and approachable. In addition to his role with somm, Jordan is also a Sommelier at Langdon Hall, Relais and Chateaux. He is a Certified Sommelier through the Canadian Association of Professional Sommeliers and he has spent his entire adult life working in restaurants and hospitality on four different continents.
About VineRoutes:
VineRoutes is an online wine lifestyle/trade publication that provides stories about wine, the people who make it and the places it comes from. The Ontario, Canada based publication provides insight – not just on Canada's wine regions – but on a variety of regions around the world. Discover and open your senses as we navigate the world of wine. Visit vineroutes.com.
About somm™:
We believe that the future of wine is tech and we're focused on making wine more approachable and accessible to everyone. With technology and machine learning at its core, somm™ is building a recommendation engine for the human palate, and in the process, putting a sommelier in everyone's pocket. Whether it's in seamlessly helping its users pick the perfect bottle, make the best pairing, or discover a whole new world of wine through marketplace, somm's simple and intuitive tech is unlocking the wine world for the masses. Download somm™ today to join the journey and become part of the Cru. Visit www.bethesomm.com for more info.
----
Please Note: By registering for this event, you are authorizing VineRoutes and Somm to communicate with you electronically regarding similar events, news and/or offers.