About this Event
You asked and we listened! We are so thrilled to announce our first virtual LYP Panel Discussion & Networking Event on Tuesday, October 6th, offered exclusively to our LYP program alumnae. "Virtual Work Culture in the New Normal" was a top-ranked topic in our alumnae survey, and our event discussions will focus on 1) working productively in teams in a virtual setting 2) effectively leading a team in a virtual setting and 3)standing out during virtual communication, including interviews, client presentations etc.
Please note: This is a private event open to LYP Program Alumnae only. A Zoom link will be sent to registered participants prior to the event. A separate public event will be hosted later in November, so please be on the lookout for that. Follow us on Instagram @LYPProgram for more info!
We are delighted to have HR specialist Kleva Gruda, seasoned corporate leader Akhil Mittal, and rockstar LYP alumna Sharnelle Kan as our panelists. The event will be moderated by another talented LYP alumna, Daniela Tabora.
Meet our fantastic panelists:
Kleva Gruda is an accomplished professional with over 20 years of experience delivering business strategic programs in human resources, talent & succession management, leadership development, human capital planning, employee engagement, inclusion & culture change, organizational design, transformation, and change management. She is currently a senior manager at HR Strategies and Solutions at the Cabinet Office, Ontario Public Service, and in the last 10 years she held various leadership and consultancy roles within the public service. She has experience with leading all aspects of human resources and employee relations in public, private and international organizations.
Kleva is passionate about non-for-profit work and has a long history serving in the sector, whether working as HR Manager for local organizations such as Skills for Change and Mainstay Housing, acting as a Board Member or volunteering her time consulting with Management Advisory Services.
Prior to moving to Canada, Kleva worked for international organizations in Albania, United States, Kosovo, Afghanistan and Zimbabwe, delivering projects in human resources, operations and corporate services. Originally from Albania she is fluent in Italian and Albanian. She has a degree in Math from Albania and a Masters Degree in Public Administration from Syracuse University, Canadian HR Professional Certified and Certified Talent Management Practitioner.
Sharnelle Kan is currently the Social Media Marketing Manager for one of the province's largest automotive groups. At Weins Canada, she feels lucky to have the opportunity to combine her love of content creation with cars.
Growing up, she aspired to be a writer and graduated from Ryerson University with a Bachelor's degree in Journalism. However, she decided to pivot from the fast-paced world of reporting and enter the digital marketing space as it was beginning to blossom. Sharnelle began her career as a digital marketing coordinator and began honing her skills in social media management with various advertising agencies such as Saatchi & Saatchi and Bob's Your Uncle. During this time she also volunteered for the North American Association of Asian Professionals and the Yorkville Exotic Car Show, which gave her the opportunity to experiment and push the limits of her creativity before applying it to her career. Sharnelle also delved into video work with Dilawri Group of Companies, Canada's largest automotive group. She has appeared in dozens of promotional videos for dealerships across the country and also participated in a recent campaign with Kijiji Autos.
In her spare time, Sharnelle enjoys the outdoors and taps into her inner adrenaline junkie while practicing circus arts recreationally.
Akhil Mittal is an accomplished leader with experience in multiple industries, including fintech and legal tech. Currently, he leads the product, design and product marketing teams at Paramount Commerce, a global payment provider in online gaming industry. Prior to that he was the Co-Founder at Directive Communication Systems and the Director of Product Marketing at Moneris. He has an MBA from the University of British Columbia and a Bachelor's degree in Computer Science.
Our Moderator:
Daniela Tabora has been working at Scotiabank for three years. In her most recent position as Senior Manager in the Wealth Management department, her responsibilities include assessing, proposing and implementing strategic technologies solutions across Latin America. She is passionate about sports, particularly swimming, running and cycling. Daniela enjoys outdoor activities with her family and more importantly, cooking for them.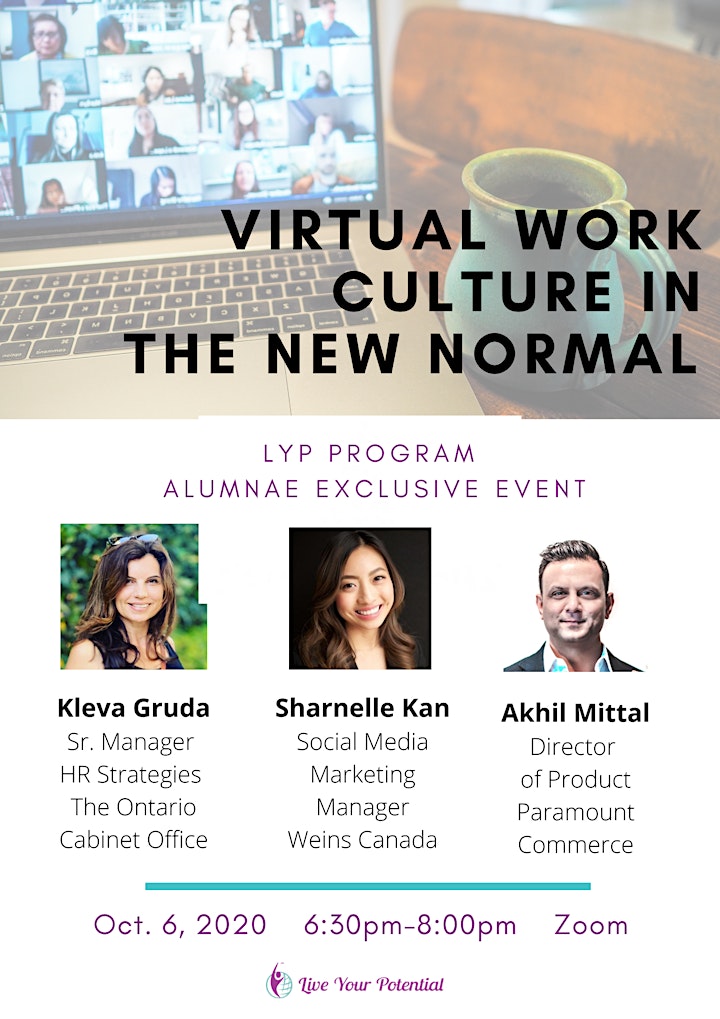 Date and Time
Location
Refund Policy