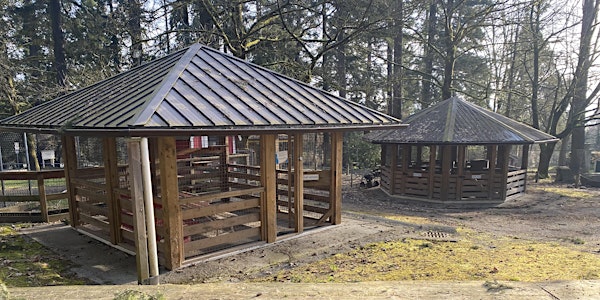 Virtual Workshop: Reimagining the Queen's Park Farm
Two design concepts have been developed for the farm space. Join us to hear a short presentation and share your feedback!
About this event
Based on what we heard through Phase 1 of community engagement last year, two design concepts have been developed for the future of the farm space in Queen's Park! The HABITAT concept focuses on where plants or animals live and where they get food and water. The GROW concept focuses on edible plants that will grow well in the shade in a forested area.
Join us for this interactive, virtual session to hear a short presentation from the project team about the two design options, and then join the other participants to discuss which of the options you prefer and why.
Your feedback - along with community input through our survey and other engagement activities - will be used to help develop a final, preferred concept for the future of this unique space in Queen's Park. A report to City Council with the proposed design is expected in early 2023, with implementation planned to begin later next year.
Visit the project page on Be Heard New West for more information on the design options and engagement process, and to take our online survey!
Please note: Registration is required to receive the Zoom link to join this session. You will receive an email from the City of New Westminster's Public Engagement team with the link to join the workshop.
Privacy Notice: The City of New Westminster makes the Eventbrite services available to you in a voluntary capacity. Please note that any personal information that you disclose to Eventbrite is stored on servers located in the United States and as such is subject to U.S. Law. If you choose to use this service, your personal information will be used to track event registration and send you event reminders for City events you registered for. You may wish to review the Eventbrite privacy policy for more information before using this service. The City has the authority to collect personal information under Section 26(c) of the Freedom of Information and Privacy Act. By registering for a City of New Westminster event on Eventbrite you are consenting to the collection of your personal information in this manner and for the purposes described above and to it being stored and accessed outside Canada. Should you have any questions about the collection, use, or disclosure of this personal information please contact Public Engagement, 511 Royal Avenue, New Westminster, V3L 1H9, 604-527-4653, privacycomplaints@newwestcity.ca