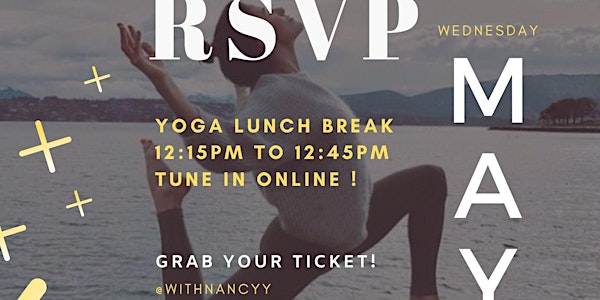 Virtual Yoga Class | May Edition | with Nancy
Join us as we meet up on Wednesdays online, to do yoga together. Enjoy this routine for better balance, posture, flexibility & strength.
About this event
If all of the current situation is stressing you out or creating anxiety, or simply that you feel you have become quite lost in all this chaos, know that you are not alone.
I've created weekly meetups of short 30 mins, to allow us to connect with others while being able to recenter on what's really important: our health.
Previous class attendees have shared tons of positive feedback, both on the yoga practice and the possibility to see and interact with fellow people interested in improving their being.
Join us every Wednesday in my Virtual Yoga Classes from 12:15pm to 12:45pm ET :)
IS THIS FOR YOU?
If you are someone who wants to relieve all the stress and tension that's been building up since the Covid started, or simply that you want to continue your yoga practice even while staying at home, this is for you. :)
Yoga and meditation has been proven countless of times to help improve balance, posture, flexibility and mental health. All of which are well needed these days...
**(and no pressure, you don't need aaaaany yoga experience)
WHAT YOU'LL GET
Improved posture and flexibility
More balanced mindset
Calmer state of mind
and new friends that you may be able to meet once we can go outside again!
HOW IT WORKS
You grab your ticket right here
You receive the call information by email
You join in and can interact the fellow class attendees - we have our cameras on ;)
We start the class and Namaste <3
Will I see you there?
This class will be led by me Nancy, from instagram.com/withnancyy and withnancy.com I am dedicated to make people grow healthier and prouder of themselves. Let's pave our way to each our own definition of happiness.
You can also join the community in this Facebook Group.
*By signing up, you agree to receive email communications on upcoming classes, meditation and wellness resources and other related matters.