Description
"Virtuous Leadership: A Vision for True Greatness"
Alex Havard, Founder of the Virtuous Leadership® Institute, Author of Virtuous Leadership
Leadership is about achieving greatness by bringing out the greatness in others. Leadership is a way of being, which can be lived by everyone no matter his or her place in society or in any given organization. Leadership is not about rank or position and is not reserved for the elite. It is a vocation not of the few, but of the many. Virtuous leadership is a vision of leadership which corresponds to the highest ideals of human nature and the noblest aspirations of the human heart.
Come to hear Alex personally share this inspiring message which will empower your leadership.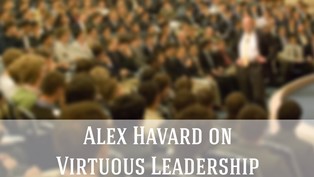 Click here to view a brief video on Virtuous Leadership
Some Background on Alex:
Alex Havard was born in Paris, and is a graduate of one of France's leading law schools. He worked as a barrister in Europe for many years before discovering his mission to ignite hearts for greatness and work to inspire men and women to raise up a new generation of Virtuous Leaders. Mr. Havard has been invited to many international forums to defend the dignity of the human person. In 2004, Alexandre Havard founded the European Center for Leadership Development (ECLD), and in 2007, he founded the Havard Virtuous Leadership Institute (HVLI). In 2010 he co-founded the Virtuous Leadership Institute in North America.
He oversees the international network of Virtuous Leadership Institutes around the world, and offers Virtuous Leadership seminars and courses in English, Russian, French and Spanish to business executives, educators, public officials, and students. His books Virtuous Leadership: An Agenda for Personal Excellence and Created for Greatness: The Power of Magnanimity have been translated into 20 languages.
What others have said:
"I found Virtuous Leadership a fascinating book that goes straight to the heart of the matter: we need to base our decisions on reality and the essence of reality is man himself."
Francois Michelin, CEO of Group Michelin (1955-1999)
"Alex Havard's Virtuous Leadership, a plea to return to the classical virtues, reflects the ongoing resurgence in appreciation for the wisdom of the ancient Greeks, which served humanity well for two millennia. I highly recommend this life-changing read."
Colonel Lee Deremer, USAF, Professor of Ethics and Strategic Leadership, U.S. Army War College (2007-2008).
"Alexandre Havard's Virtuous Leadership is a book long-needed on every level of public life in the developed nations. A vitally important and timely book."
Michael D. O'Brien, Author of Father Elijah: An Apocalypse (1996).
Books Available:
Copies of Alex's books Virtuous Leadership: An Agenda for Personal Excellence and Created for Greatness: The Power of Magnanimity will be available for purchase ($20 each) and signing at the event.
Event Sponsors
http://www.saintjosephproperties.com
http://www.virtuousleadership.org