| | |
| --- | --- |
| | |
Event Details
EXCLUSIVE ONE-ON-ONE DATES
Montreal & Toronto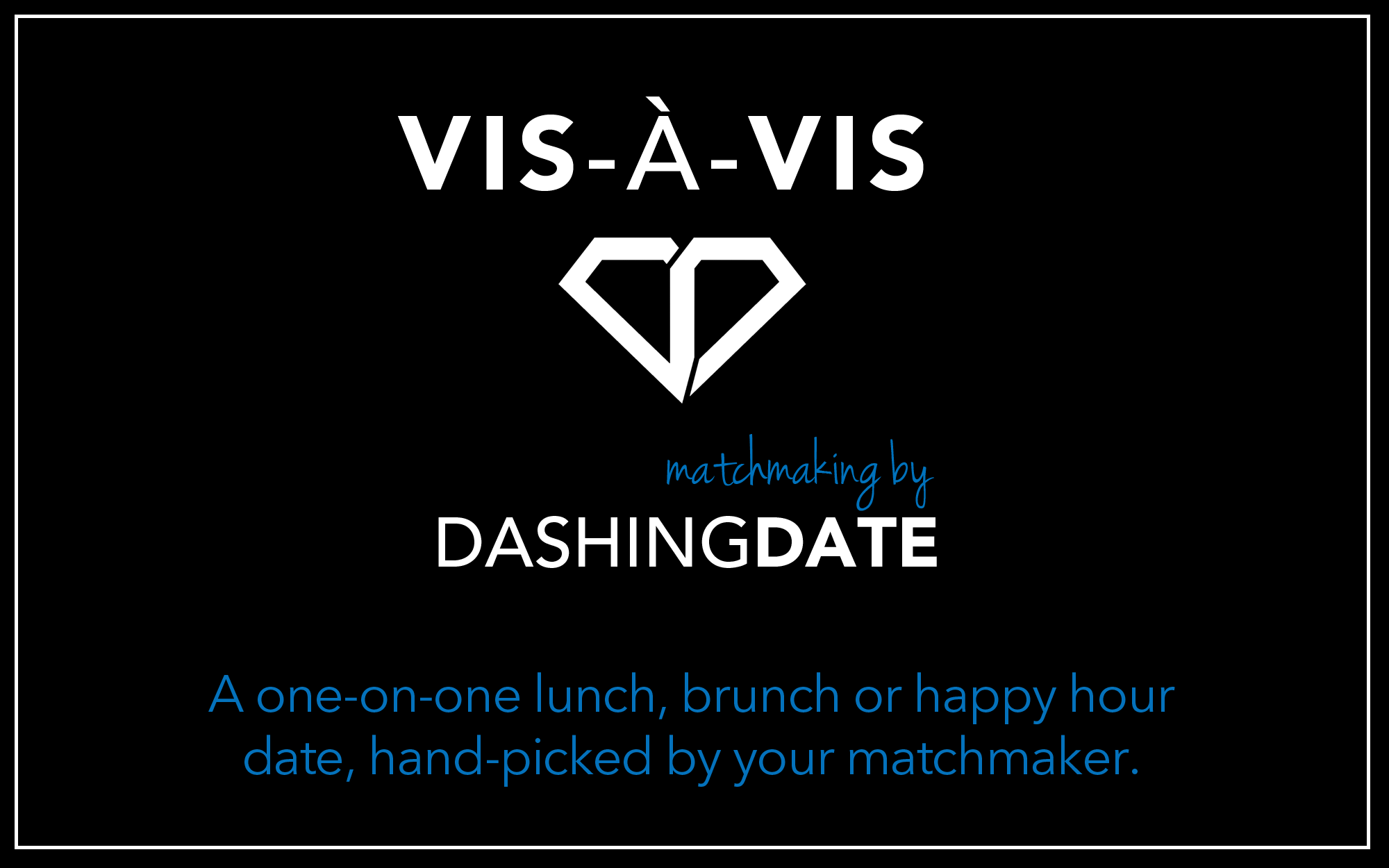 Dashing Date introduces VIS-À-VIS, a new and modern approach to meeting your Dashing counterpart.
How it works: Once an exclusive member, our team organizes 45minute lunch, brunch or happy hour dates with other VIS-À-VIS members whom we feel, after extensivee behind the scenes matchmaking, is absolutely best suited for you. 
What is a VIS-À-VIS?
A VIS-À-VIS is a one-on one, face to face date lasting 45 minutes.
Will VIS-À-VIS introduce me to my soul mate?
We hope so as much as you! This service is for the busy professional who wishes to date on his/her time. But rest assured, the dates selected for you are based on compatibility and the likeliness of chemistry.
How does the process work?
Following a face to face meeting with a team member of Dashing Date (optional, but highly recommended), as well as an extensive review of your Dashing Date Dating Profile (Questionnaire is emailed to you upon signup), our team gets to work by not only reviewing our database of singles in great detail, but also keeping our eyes glued and ears opened around the city for your next date. You will be notified as soon as we have a potential date for you, at which point you will be provided with one of three meeting options: lunch, brunch or happy hour. Detailed information will follow by email and phone and your personal Dashing Date Matchmaker will guide you every step of the way.
Will I see photos of my dates beforehand?
Absolutely not. Chemistry and attraction happen in person, not through a photo. This is where you have to trust our team of professional and passionate matchmakers. We will certainly take your type into account but keep the main focus on having you meet someone who you will not only be attracted to but also have a connection with based on mutual compatibility. This service is purposely designed to not be like online dating.
How does the VIS-À-VIS itself work?
All dates are pre-scheduled to last 45 minutes. You will meet your date at a pre-determined venue partner of Dashing Date. Our team makes sure beforehand that the venue is well informed so that the process is seamless. It is to your discretion if you wish to let the date run any longer than 45 minutes. Following your VIS-À-VIS, our team will contact both you and your date for a gossip session. Any following steps will be determined from there.
Where does the VIS-À-VIS take place?
All VIS-À-VIS dates take place at one of our partnered venues. You may be provided with a slight selection depending on the type of VIS-À-VIS you've chosen (lunch, brunch or happy hour). Reservations are taken care of on your behalf.
How much does it cost?
There is an initial /annual membership fee of $180 plus $60 for each date that we send you on.
How many dates will you send me on?
Dashing Date guarantees you a minimum of 1 date and there is no limit. These numbers depend greatly on your Matchability Rate, which is individually based on a variety of factors and determined after a review of your Profile and meeting with you.
Questions? Email us anytime! hey@DashingDate.com
Organizer
Why speed dating?
We know dating is hard and meeting someone you like is even harder. We're not saying that speed dating is the solution but Dashing Date's goal is to definitely make things a little easier for you. At our dating events, you will meet like-minded singles who share similar lifestyles and are within your preferred age group. We are providing you, hands down, the most effective way to meet your next date, all the while enjoying a quality night out that is just as fun as being out with friends.
What are Dashing Date events like?
 Our events take place at trendy venues that are centrally located within each city. They are lead by a fun and awesome Dashing Date host from start to finish. Pre-screened eligible singles will enjoy an evening of romance, new connections and endless possibilities. The night will start with a mystery ice breaker activity followed by Speed Dating and end with socializing over cocktails. 
Click here to learn more about our screening process.
What type of people will I meet?
We target single professionals who are attractive, well presented and normal!
How many people will I meet?
We entertain 14-24 guests in total. So you will meet 7-12 people of the opposite sex.
What are the age groups and where are the events being held?
Age groups and venues vary each month. You will find these details listed on the event page for the city you are interested in attending in.
How long do the events last?
About 2.5 hours.
Do I need a ticket?
Yes. Your spot needs to be paid for and reserved in advance. Tickets can be purchased online via Eventbrite or for alternate payment methods, please contact us. Space is limited and will be offered on a first come, first served basis.
About our screening process
Dashing Date members are pre-screened. Anyone who wishes to attend an event with us must first sign up as a member (it's free to do so), and be approved by our team before attending the event. This is an important step for three main reasons:
1. Safety comes first. We are able to ensure that the person we screen ahead of time is the person who attends the events.
2. Learning about you helps us better match you with the right people at the right events.
3. We aim for a certain caliber of people; well presented and interesting professionals.
Finally, at Dashing Date, we believe that changing up your routine and trying something different is the key to new opportunities. How are you going to meet someone if you keep doing the same thing over and over? Our events are a place where opportunity is created. We connect singles through unique and entertaining dating experiences. Our personal approach in building and maintaining relationships with our clients is of utmost importance.