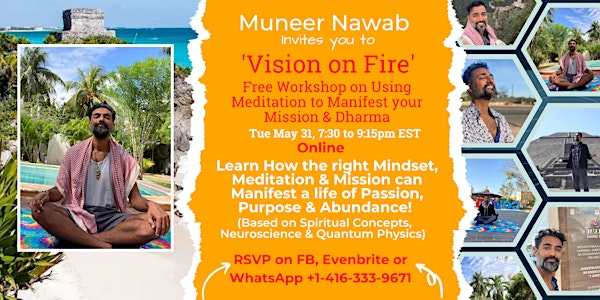 Vision on Fire: Free Workshop on Meditation to Manifest your Mission/Dharma
'Vision on Fire': How the right Mindset, Meditation & Mission can Manifest a life of Passion, Purpose & Abundance! (Free Workshop)
About this event
'Vision on Fire': How the right Mindset, Meditation & Mission can Manifest a life of Passion, Purpose & Abundance! (Free Workshop based on Spiritual Concepts, Neuroscience & Quantum Physics)
We are living in a place and time of absolute abundance. Time to 'ignite the flame within' and fully tap into it!
We are so blessed, yet do you ever feel as though something is missing in your life? Like you are so close to experiencing what you desire, but there always seems to be something holding you back?
Well, are you living in alignment with your life's mission? Your Dharma? Are you clear on what the purpose of your life even is? Even if you are, are you moving towards your path in a consistent way every day?
(Some of us may have done the initial work to get clear on our path, but life often distracts us from what matters most, without us even being conscious of it.)
Do you want to grow and improve yourself and your life in terms of health, wealth, business / career, relationships and all forms of abundance?
In this free online workshop, I will show you how to heal past traumas that are keeping you stuck in your ego, preventing you from following your mission by seeing the abundant opportunities around you.
No matter how much clarity you may think you have, the ego will always try to prevent you from reaching your true and pure destiny.
I will show you how to get clear on your Dharma (your life's mission) AND consistently follow it every day, month and year, so that you can align everything in your life with it and tap into abundance in all areas.
I will teach two powerful meditation techniques. The first is the Soul Intuition Meditation, in which we meditate on Grounding, Gratitude and Love, to align with our true spirit. From this aligned state, we receive guidance from the consciousness of the universe, to discover creative solutions in all areas of life. (This is inspired by the work of Quantum Physicist, Sir Roger Penrose.)
Then, I will also share a powerful meditative practice I've created called the Conscious Self Massage meditation. Through this simple hand massage, I will show you how to fully embrace your own being, so that you are no longer chasing love and validation through your ego. This is more uplifting than any drugs, alcohol or plant medicine I am aware of. Everything that we need is in the wisdom of our body and spirit - we just need to tap into it by activating our chakras.
About me:
Muneer Nawab is a successful business owner, a parent, a computer scientist, a world traveler and a meditation & abundance coach. He has been meditating and growing his spiritual practices for the past 10 years. Around the same time he started his most successful company, Crowdlinker - a digital agency with 45+ employees around the world. He has completed Personal Development courses by Tony Robbins and Landmark, including the Introduction Leaders Program, as well as the Spiritual Inner-Engineering Program by Sadhguru.
He believes that spiritual concepts such as meditation, and dharma, can help us all create joyful, abundant lives that we love.
What to expect in this free workshop:
- Learn how to find your dharma (life mission) and follow it every day
- Learn how to meditate to access our higher spirit and divine inspiration
- Experience transcending the Ego and other limitations
- Guided Meditation for how to receive creative solutions to our pressing challenges
- Create a growth plan to put these concepts and practices to work for you
Also:
- For those who are serious, afterward, I will be offering a free 1:1 coaching session, to help you on this path of realizing your life purpose!
- Also all those who attend will get access to many of my recorded meditations and yoga routines.
Exchange:
I normally charge per session, but this is a special free offer for my community. I only ask that at the end of the program, you provide a testimonial of your experience if you like. Thank you.
Bonus:
- If you're interested, I will tell you how to get the material and knowledge to teach these concepts to your friends and clients too e.g. meditation and spiritual concepts such as finding your dharma. This will allow you to add value to your people (and possibly generate more income.)
To Register:
Get a free ticket here on Eventbrite.
Optimizing my daily meditation practice and following spiritual concepts like dharma have helped me grow immensely in life, like receiving the intuition on how to raise the first million dollars in my business, losing 30 pounds, and improving my focus, to name a few. I want the best for you as well and I'm excited to see how you can use this training to transform yourself and the world!