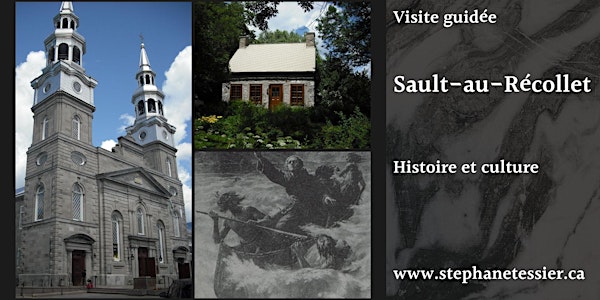 Visite guidée Sault-au-Récollet - Dimanche 11 septembre 2022 14h30
Visite guidée à pied histoire du Sault-au-Récollet
Refund Policy
Contact the organizer to request a refund.
Eventbrite's fee is nonrefundable.
About this event
Cette visite relate l'histoire de ce secteur de 1625 à aujourd'hui. Découvrez un ancien village rural avec ses nombreuses maisons ancestrales. On y retrouve la plus ancienne église de Montréal, l'église de la Visitation qui aurait été construite selon la légende par un cheval-garou! Le site des moulins qui a été le cœur de cette région sur plus de deux siècles est l'un des premiers sites industriels dans l'histoire du Québec. Le boulevard Gouin inauguré dans les années 1730 regorge d'un patrimoine bâti qui est un témoignage éloquent d'un village ayant connu la campagne, la villégiature, l'urbanisation de l'après 2e guerre…
Coût: 10.00$
Informations: skawanoti@videotron.ca
Le lieu de départ vous sera transmis par courriel la veille de la visite
Annulation et remboursement / Les visites sont annulés seulement en cas de température extrême (orages, pluies intenses, tempêtes…). Prévoir se vêtir en fonction de la météo. Aucun remboursement n'est fait en cas d'une annulation à l'intérieur de 24 heures.
www.stephanetessier.ca