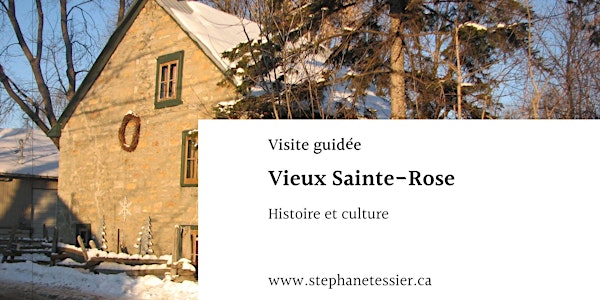 Visite guidée Vieux Sainte-Rose - Dimanche 25 septembre 2022 à 10h30
Visite guidée à pied histoire du Vieux Sainte-Rose
Refund Policy
Contact the organizer to request a refund.
Eventbrite's fee is nonrefundable.
About this event
Une promenade dans le vieux Sainte-Rose est un voyage dans l'un des premiers villages fondateurs de l'île Jésus. La variété des styles architecturaux, nous relatent l'histoire d'un village qui fut rural, puis destination villégiature et depuis la fin de la 2e guerre mondiale, un quartier bien urbanisé. Sainte-Rose est riche en anecdotes : la paroisse fut supprimée et ses paroissiens excommuniés ! Il s'agit du lieu de naissance du Roi du Nord, Antoine Labelle. L'auberge Tassé fut témoin des évènements de 1837-1838. La baignade faisait tellement la renommée du village que les gens de Sainte-Rose étaient appelés les « beignets » ! Et bien d'autres…
Coût: 10.00$
Informations: skawanoti@videotron.ca
Le lieu de départ vous sera transmis par courriel la veille de la visite
Annulation et remboursement / Les visites sont annulés seulement en cas de température extrême (orages, pluies intenses, tempêtes…). Prévoir se vêtir en fonction de la météo. Aucun remboursement n'est fait en cas d'une annulation à l'intérieur de 24 heures.
www.stephanetessier.ca