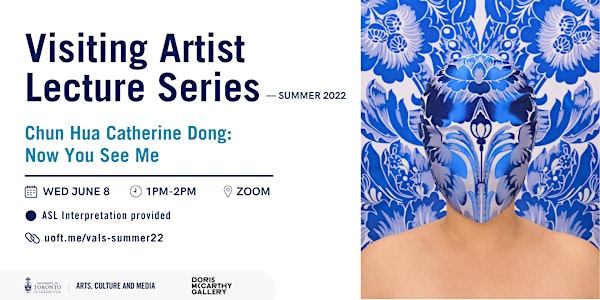 Visiting Artist Lecture Series: Chun Hua Catherine Dong
Free online talk by Chun Hua Catherine Dong, part of the Visiting Artist Lecture Series at U of T Scarborough
About this event
Chun Hua Catherine Dong will speak about her multidisciplinary art practice, including her work currently on exhibition at the Doris McCarthy Gallery as part of the group exhibition Now You See Me.
Chun Hua Catherine Dong is a Chinese-born Montreal-based artist working with performance, photography, video, and AR and VR. Dong received an MFA from Concordia University and BFA from Emily Carr University Art & Design. Dong's work has been exhibited in many national and international venues, such as Quebec City Biennial, MOMENTA | Biennale de l'image, MAC VAL in France, Museo de la Cancillería in Mexico City, Canadian Cultural Centre in Paris and so on. Dong was the recipient of the Franklin Furnace Award for performance art in New York in 2014 and listed the "10 Artists Who Are Reinventing History" by Canadian Art in 2017. Dong was awarded with Cultural Diversity in Visual Arts by the Conseil des arts de Montréal in 2021, and a finalist for Prix en art actuel du MNBAQ 2020.
This talk is part of the Visiting Artist Lecture Series, co-presented by the Doris McCarthy Gallery & Studio Art program, Department of Arts, Culture & Media, University of Toronto Scarborough. This semester's series addresses the importance of academic and artistic freedoms.
This talk is free and open to the public, all are welcome. It will be hosted on Zoom and will have ASL interpretation and captioning. If you have other accommodation needs, please let us know when registering or contact dmg.utsc@utoronto.ca. After registering, attendees will be provided with a Zoom link to join the talk virtually.
U of T Scarborough students attending for course credit should register through CLNx rather than Eventbrite. See www.utsc.utoronto.ca/acm/visiting-artist-lecture-series-summer-2022 for more details.
ABOUT THE EXHIBITION
This talk is presented as part of the programming for Now You See Me, a photo-based exhibition that explores issues related to gender and cultural identity. All variously identify as women, femme, and non-binary, artists Dayna Danger, Chun Hua Catherine Dong, Gaëlle Elma, Leila Fatemi, Kablusiak, Meryl McMaster, and Vivek Shraya employ tactics of performing, concealing, and revealing their bodies and those of their collaborators, to produce works that challenge normative, colonial assumptions.
Image: Chun Hua Catherine Dong, 'Skin Deep', 2019.
-----
The Doris McCarthy Gallery at times records programs and events for the purposes of education, archive, and promotion. By participating in a program or event presented by the Doris McCarthy Gallery, you consent to being recorded (photographs, videos, audio recordings, or other media). The Doris McCarthy Gallery will not use these recordings for commercial purposes. Participants will be notified at the beginning of a program or event when recordings will be taken. Please disable your video and/or microphone if you do not wish to be recorded.
The Doris McCarthy Gallery provides an open space for the critical and civil exchange of ideas. By registering for this program you agree to help create an atmosphere of mutual inclusion and respect for all persons. This includes speaking, acting and behaving in a way that is absent of violence, harassment, racism, intimidation, bullying or discrimination of any kind regardless of, and not limited to gender, sexual orientation, race, ethnicity, culture, age and ability.