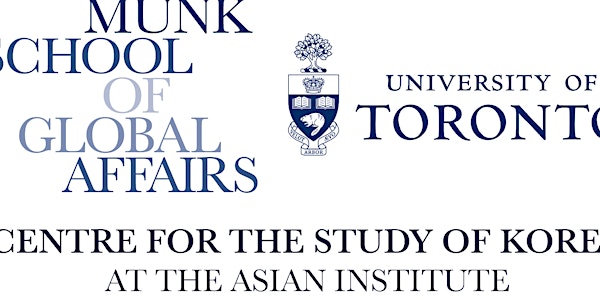 Visual Methods Workshop
When and where
Location
Room 208N Munk School of Global Affairs, 1 Devonshire Place Toronto, Ontario Canada
Description
2015 Annual Symposium: "High-Rise Seoul"
Visual Methods Workshop
December 9, 2015 | 3:00 PM - 5:00 PM
Centre for the Study of Korea, Asian Institute, Munk School of Global Affairs
208N – North House, 1 Devonshire Place
How do social science researchers studying urban dynamism and change use ­photography, maps, film, video, graphic design, and other forms of visual data in their methodological practice? How do visual representations of objects, places, and landscapes foster different ways of seeing and knowing? What kinds of ethical and political dilemmas are generated by the use of visual forms? This workshop invites three distinguished speakers to share their innovative approaches to visual methodology, which move beyond a narrow emphasis on documentary representation and explore the complex issues involved in producing visual interpretations of social, political, and cultural life. In addition to sharing their insights about specific projects utilizing visual methods, they will discuss the importance of collaboration and reciprocity in the field of visual methodology as well as complex entanglements around power, inequality, and social justice in the production and dissemination of visual representation and forms.
Chair: Jennifer Jihye Chun, Director, Centre for the Study of Korea
Speakers:
Valérie Gelézeau, the 2015 annual symposium's distinguished guest speaker from the École des Hautes Études en Sciences Sociales (EHESS, Paris) within the Centre for Korean Studies, will share insights from her use of visual methods in projects such as Ap'at'ŭ konghwaguk ("The Republic of Apartments," Seoul: Humanitas, 2007), Atlas de Séoul (a geographical monograph of Seoul as a megacity, 2011), and Korea, Koreas: A Situated Geography of the Division (2012).
Tong Lam, a historian and visual artist from the University of Toronto Mississauga, will discuss his use of photographic and cinematographic techniques to document China's phenomenal growth, including images of the precarity of everyday life in a rapidly urbanizing village, the co-existence of affluence and dispossession, and the debris of history in industrial and post-industrial societies.
Ju Hui Judy Han, a cultural geographer of religion, mobility, and difference from the Department of Human Geography at the University of Toronto Scarborough, will discuss the use of ethnographic nonfiction and digital storytelling to deepen our understanding of affective geographies and temporalities.
Deborah Cowen is Associate Professor in the Department of Geography and Planning at the University of Toronto. Deborah is the author of The Deadly Life of Logistics (Minnesota 2014), Military Workfare: The Soldier and Social Citizenship in Canada (UTP 2008), and co-editor with Emily Gilbert, of War, Citizenship, Territory (Routledge 2008). Deborah has been active in community-based research in Toronto's post-war suburbs and involved in a collaborative project with the National Film Board's HIGHRISE team looking at cities and suburbs in Toronto and globally, both for a number of years.
Sponsor: Centre for the Study of Korea
Co-sponsors: Dr. David Chu Program in Asia Pacific Studies, Department of Geography and Planning