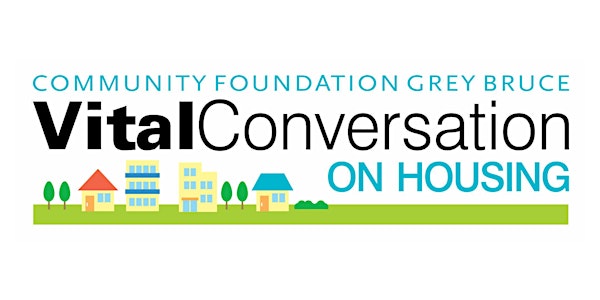 Vital Conversation on Housing
Join Community Foundation Grey Bruce on December 1 from 4 - 6 pm as we convene an online Vital Conversation on Housing.
About this event
Have you read the Community Foundation Grey Bruce's Vital Focus on Housing report?
Community Foundation Grey Bruce will be hosting an online interactive Vital Conversation on Thursday, December 1 from 4 - 6 pm. The event will discuss findings from the Vital Focus on Housing report that was released in May 2022 and give a deeper perspective on housing in Grey and Bruce Counties. Join the conversation to share your experience and hear about how innovation and community projects are addressing the current housing crisis. This event is supported by Leith Wheeler Investment Counsel Ltd.
The online session will be facilitated by Melri Wright and Mike Wright of Ledge Leadership. The meeting will take a World Café style sharing knowledge and creating possibilities for action built on the notion of group intelligence. Participants will hear insights from inspiring local guest speakers and will have the chance to participate in smaller group discussions on relevant topics.
To register for Vital Conversation or read the full Vital Focus on Housing report, visit www.communityfoundationgreybruce.com.
Participants will hear from guest presenters:
• Tania Dickson, Housing Services Manager, and Jack Van Dorp, Manager of Land Use Planning, sharing about the Affordable Housing 101 Toolkit created by Bruce County
• Erica Phipps, Researcher and Advocate, sharing survey results collected by the RentSafe Owen Sound Collaborative
• Marilyn Struthers, Institute of Southern Georgian Bay, sharing reflections from the National Financialization of Housing Lab on what could help our municipalities to cope with the housing crisis
Vital Signs is Canada's most extensive community-driven data program. Spearheaded by Community Foundations of Canada and led by community foundations across the country and around the world, Vital Signs uses local knowledge to measure community well-being and support action towards improving collective quality of life. Vital Conversations may be used to collect insight from the community about priority issues, gather insight from specific demographics within the community, as a conversation starter, and/or as a tool to spark connections and collaborative action on identified community priorities.
This conversation is generously sponsored by Leith Wheeler Investment Counsel Ltd.