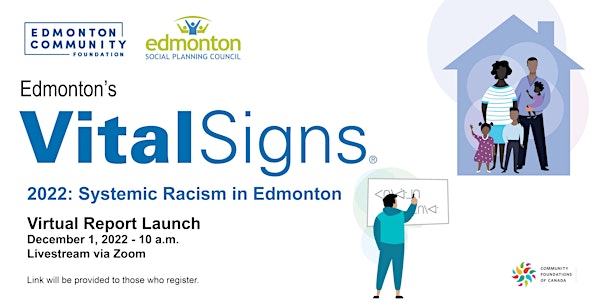 Vital Signs 2022 Launch - Livestream
Join us virtually for the livestream of Edmonton's Vital Signs 2022 report launch, focused on Systemic Racism in Edmonton.
About this event
Join Edmonton Community Foundation and Edmonton Social Planning Council virtually for the livestream launch event of our 2022 Vital Signs report, which focuses on systemic racism in Edmonton on December 1.
This year's Vital Signs report is a valuable teaching tool and resource for policy makers, community leaders, and anyone interested in learning about the impacts of systemic racism on Edmontonians.
This livestream includes a brief presentation of the report findings, as well as a keynote presentation and call-to-action statements from advisory committee members.
What: Vital Signs 2022 Report Launch: Systemic Racism in Edmonton
When: December 1, 2022, 10 am – 11:15 am
Where: Virtual live stream. Zoom link will be provided to those who register.
Vital Signs is a national program led by community foundations and coordinated by Community Foundations of Canada that leverages community knowledge to measure the vitality of our communities and support action towards improving our quality of life.