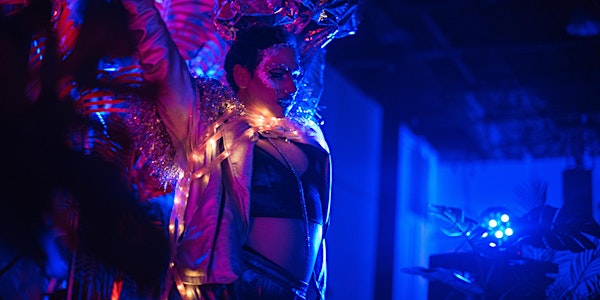 VMF After Dark x Public Disco: Origins of House Music
VMF After Dark: Winter Arts 2023 second night, Public Disco: Origins of House Music will highlight the roots of dance music culture
When and where
Location
Bentall Centre Gallery 555 Burrard Street Vancouver, BC V7X 1M8 Canada
Refund Policy
Contact the organizer to request a refund.
Eventbrite's fee is nonrefundable.
About this event
VMF After Dark x Public Disco: Origins of House Music
Public Disco: Origins of House Music aims to highlight the roots of dance music culture.
Join us for a special edition of VMF After Dark x Public Disco as we pay tribute to the vibrant and inclusive history of house music. This event will feature music, visual art, and dance performances by individuals who have contributed to Vancouver's queer and DIY house music scene over the past few decades. It is a celebration of the rich history of dance music and a recognition of the communities and ethos that played an integral role in its evolution, a history that is often overlooked in today's mainstream EDM industry.
House music culture has long been known for its inclusivity and acceptance. It originated in Black, Queer and Trans communities in Chicago and New York in the early 1980s before spreading to cities worldwide, including Vancouver. Disco had lost its position within mainstream pop-culture, but it and other forms of dance music continued to thrive in underground clubs and queer spaces. At the time, the West End was overflowing with gay bars and what's now known as Yaletown was Downtown's warehouse district home to venues like Graceland, Gandydancer, Faces, the Odyssey and many more over the years.
In 1986, Vince Alvaro brought the spirit of iconic New York warehouse venues like Paradise Garage to the West Coast with the opening of Graceland, Vancouver's groundbreaking music and art space. Graceland was a vibrant, mixed space where diverse groups of people came together to enjoy the grit, drama, freedom and excitement of a large warehouse party. DJ's like Robert Shea (who was a resident at Graceland) started collecting house records coming in from Chicago and soon had enough music to play house all night long, something unheard of at the time in Vancouver. Places like Graceland were forward thinking with their event design, curation and inclusivity, paving the way for the expansion of house music in the decades to come.
Many of the global pioneers of house music, such as Frankie Knuckles and Larry Levan were members of marginalized communities and used their music to celebrate diversity and inclusivity. House music drew inspiration from disco, funk and soul, with producers sampling artists like Donna Summer, Luther Vandross and Chaka Khan to create a sound that paid tribute to these genres while also pushing the music forward using new technologies.
As house music became more popular, it has been appreciated by people who don't necessarily have a connection to the culture or know the history of the genre. This can lead to a dilution of the message and values that were central to the origins of house music. It is important to remember, the gay community was at the forefront of bringing house music to Vancouver. To those that love dance music but don't feel connected to its origins, we invite you to continue loving it, but recognize and honor the history, support the communities and integrate the ethos that has been a vital part of its foundation and evolution. Involve Black, Queer, Trans and other marginalized people in this culture, and celebrate their past and ongoing contributions to what makes this genre of music so special.
Want to learn more about Vancouver's house music origins? Check out Discotext Magazine: Vancouver Club Culture & the History of EDM 1988 - 1990 by Graceland resident DJ Robert Shea and Susanne Tabata.
Featuring:
Visuals by:
Dancers, curated by Juan Duarte:
Public Disco connects people through music and dancing in re-imagined urban spaces. Learn more at publicdisco.ca
---------------------------------------------------------------------------------
This event is taking place as part of VMF WINTER ARTS, a free, all-ages arts festival transforming downtown Vancouver into an open-air gallery and celebration of art, lights and entertainment. The special 5-part VMF AFTER DARK SERIES will feature each night a collaboration with a different crew from Vancouver's music and arts scene to create a unique party experience. All are welcome to join us in celebrating each of these exciting nightlife collaborations!
VMF AFTER DARK SERIES
Friday, Feb 17 | AfroQueer YVR: Black Rave
Saturday, Feb 18 | Public Disco: Origins of House Music
Sunday, Feb 19 | Deep from the Underground
Friday, Feb 24 | Public Disco: Darker Shades
Saturday, Feb 25 | bside.radio Showcase
Learn more about the festival at winterartsfest.com and follow @winterartsfest for updates.
LOCATION & ACCESSIBILITY INFORMATION
The Bentall Centre Gallery is a vacant commercial space re-imagined as a pop-up night club and arts space, located across the street from Burrard skytrain station in downtown Vancouver.
VMF events aim to be a safe space for people of all ages, genders, ethnicities, abilities, and sexual orientations.
Ground floor entrance from Burrard Street
Washrooms: Accessible bathroom on site, accessed by elevator
Seating Available in the venue
Public Transport: 1 min from Burrard Skytrain, 5 min from City Centre Station
Parking: Available at Indigo Vancouver Lot 101 - Bentall Pender Parkade
Outdoor area available for lower stimulation zone with propane heaters
Full Service Bar with non-alcoholic and alcoholic beverages available. Only Debit or Credit cards accepted.
Please contact jennifer@vanmuralfest.com for any questions regarding accessibility.
TIERED TICKET PRICING
We understand that ticketed events present a barrier to access for those facing financial barriers. It's important that VMF After Dark remains accessible so we are offering a tiered pricing model. If you miss out on our discounted early bird tickets and are facing financial barriers, send an email to jennifer@vanmuralfest.com for access to a promo code for reduced price tickets.
PARTNERS
VMF After Dark is made possible thanks to the support of our partners: Bentall Centre, Evo Car Share, Softlanding, Red Bull.