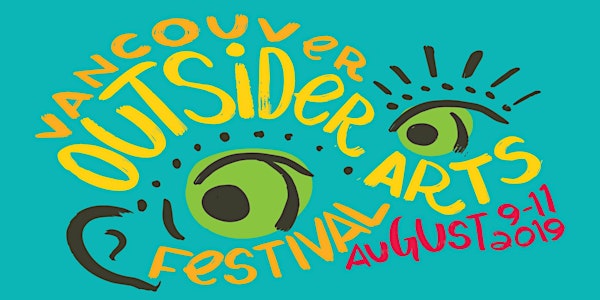 VOAF 2019: Artbiz with Jeff Wilson & Barrie Mowatt (ASL Provided)
When and where
Location
Roundhouse Community Arts & Recreation Centre 181 Roundhouse Mews Performance Centre Vancouver, BC V6Z 2W3 Canada
Description
Vancouver Outsider Arts Festival 2019 presents
Artbiz with Jeff Wilson, with special guest Barrie Mowatt from Vancouver Biennale
ASL Interpretation will be provided

Saturday August 10 from 10 AM – 1 PM
Roundhouse Community Arts & Recreation Centre, Performance Centre
Pre-registration is recommended

**Please note as this is a free event, your ticket reserves your spot only until five minutes before the event - so please arrive on time. At this time all remaining seats are first come first served. If you are a Festival Artist or Performer you do not need to register; you are reserved a seat until the event begins.**
About the Artbiz Workshop:
You know you have talent, and produce good work, but may face social exclusion or other barriers in exhibiting and selling. This workshop will discuss many of the practical things that new, emerging and outsider artists have to think about when establishing an art practice. Topics will include getting a studio, recording inventory, essential documents, websites and social media, public exhibitions, pricing & commercial galleries. By the end of the workshop, attendees will have some idea of the type of the things that are expected of any serious artist, and how to respond in a positive manner.
---
About Jeff Wilson:
Jeff Wilson is a self-taught full-time artist, based in Vancouver. In addition to over twenty solo shows, Jeff has received a number of awards, including a Finalist in the inaugural Saltspring National Art Prize, and two DTES Small Arts Grants from the Vancouver Foundation. Jeff has completed residencies at the Booth in Shetland, Glacier National Park, and the Wallace Stegner House. His work is held in numerous private, public and corporate collections. For more information about Jeff, visit his website at jeffwilsonart.org.
About Barrie Mowatt:

Barrie Mowatt has a long and accomplished history as an entrepreneur and philanthropist, beginning with the establishment of the Buschlen Mowatt fine art gallery in 1979. Barrie is the visionary behind the Vancouver Biennale Open Air Museum, where he combines his passion for art, education and community service in exhibitions that bring great art to public spaces where people live, work, play and transit, free for all to enjoy, explore and be inspired by. Barrie is also the founder of the Celebration of Hope Foundation, Taste the Nation, and the Buschlen Mowatt Scholarship Program at Arts Umbrella. He is the recipient of the Vancouver Business in Arts Award.
What on earth is VOAF? Where can I learn more?
The Vancouver Outsider Arts Festival (VOAF) is presented by the Community Arts Council of Vancouver, and takes place August 9 - 11 at the Roundhouse Community Arts & Recreation Centre in Yaletown.
All events are free and open to the public, and 100% of the sales go to artists. For a complete list of all workshops, artist talks, hands-on activities, performances, open mics, and installations visit http://bit.ly/VOAF2019