Voices Across the Border II: Canada, the US, and the Global Refugee Crisis
Voices Across the Border is a 3 event series of panels discussing specific topics as they relate to Canada and the U.S.
About this event
Voices Across the Border Panel #2 - Canada, the United States, and the Global Refugee Crisis
According to recent data produced by the United Nations, at the end of 2020, more than 82 million people were living their lives as refugees, forcibly displaced from their homes due to war, violence, and persecution. Today, amidst the COVID-19 pandemic, the world is undergoing a refugee crisis. What is the extent of the crisis? How have the causes and sources of refugees changed in the recent past? How well have the mechanisms that the United Nations and its members countries erected since the early 1950s responded to the global crisis? Join us as panel members provide their perspectives and the results of their own research on this critical and timely subject.
Panelists:
Dr. Janet Mancini Billson, Killam Visiting Professor of Canadian Studies, Bridgewater State University
Dr. Snezana Ratkovic, Faculty of Education, Brock University, St. Catharines, Ontario
Dr. Joseph Sankoh, Department of Political Science, Daemen College, Amherst, New York
Moderator:
Andrew Holman, Canadian Studies, Bridgewater State University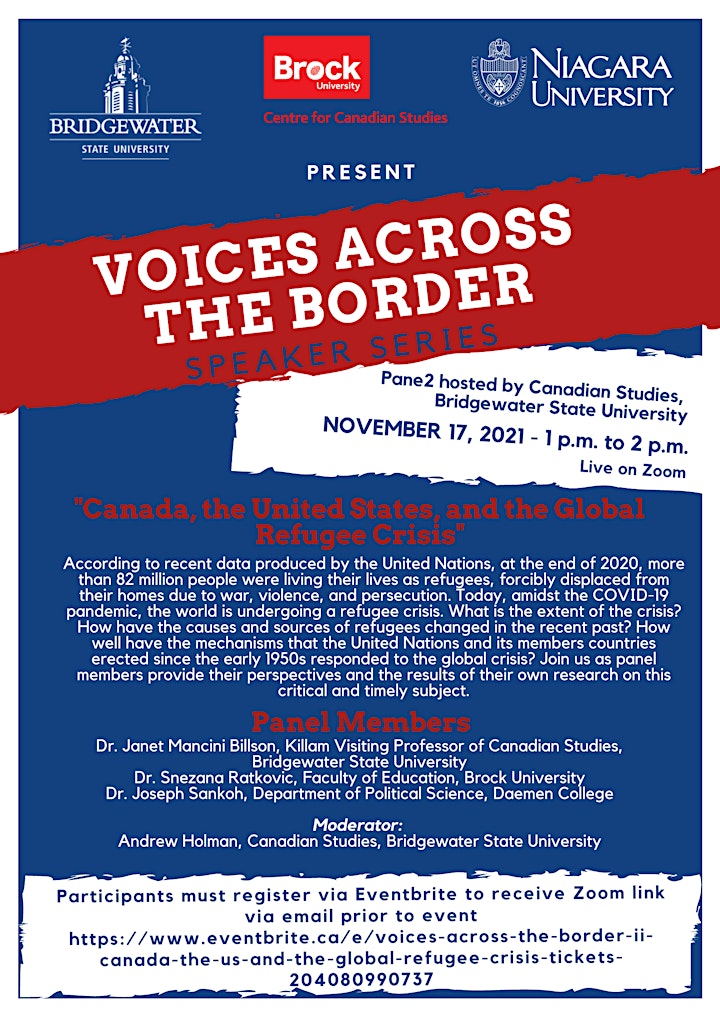 Organizer of Voices Across the Border II: Canada, the US, and the Global Refugee Crisis