Voices From the Grassroots: COVID-19 and Women from the Global South
OCIC's Gender Equality Hub is hosting a Breakfast Dialogue, sharing stories of women from the Global South who have been impacted by COVID.
About this Event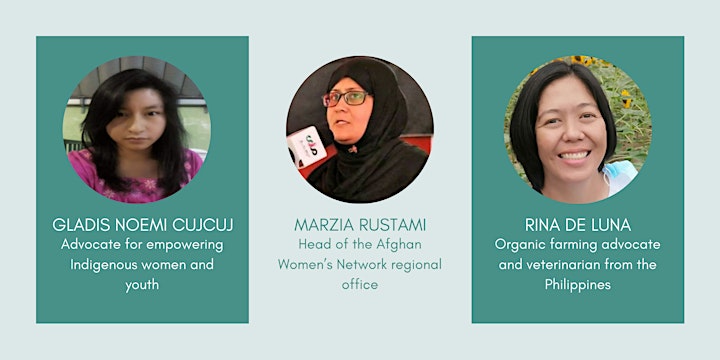 The Ontario Council for International Cooperation's Gender Equality Hub is launching a flipbook profiling the stories of women from the Global South dealing with COVID-19, a culmination of nearly a year's worth of local, community conversations. This launch will be commemorated with a virtual Breakfast Dialogue, Voices From the Grassroots: COVID-19 and Women from the Global South, on February 11, 2021 at 8:30 am (EST).
This year marks the beginning of the last decade towards the 2030 Agenda for Sustainable Development. COVID-19 has pushed back the progress being made to realize the 17 Sustainable Development Goals (SDG). The global economic recession due to the pandemic has pushed an estimated 71 million into extreme poverty, with the most vulnerable groups i.e., women, children, the elderly, persons with disabilities, migrants and refugees being hit the hardest.
Learn more about the impacts of COVID-19 on women and girls through Voices from the Grassroots: COVID-19 and Women from the Global South, a compilation of stories of the Gender Equality Hub of the Ontario Council for International Cooperation gathered from Afghanistan, Guatemala, Kenya, Mali, the Philippines, South Sudan, and Uganda. This will be launched during International Development Week on Thursday, February 11, 2021, 8:30 - 10:00 am Eastern Standard Time.
Hear the challenges, resilience, and triumphs of these women and girls directly from our speakers:
Gladis Noemi Cujcuj, an advocate for empowering women and youth especially Indigenous groups, and working on a microcredit program with Mujeres en Acción, a non-government organization in Guatemala - "The Economic Impact of COVID-19 on Vulnerable Groups"
Marzia Rustami, a women's rights activist and head of the Afghan Women's Network regional office - "The Challenges of the Pandemic and Political Unrest in Afghanistan"
Rina de Luna, a teacher, veterinarian and animal welfare advocate, organic farming advocate and practitioner from the Philippines - "Leveraging Partnerships to Mitigate the Impacts of COVID-19"
Their testimonials will call upon us to increase our advocacy efforts for increased gender responsive approaches by all sectors in response to COVID-19, as well as in rebuilding societies after the pandemic. They further call upon us to strengthen our approaches to more deliberately include diverse and multiple stakeholders and at all levels, including amongst civil society, religious groups, the private sector, community-based organizations at the grassroots, with diaspora communities, etc.
Join us to learn more.