Voices of Welcome and Refuge - A Human Library for World Refugee Day
Description
Le français suit.
Voices of Welcome and Refuge - A Human Library for World Refugee Day
Join us at the Global Centre for Pluralism for a Human Library on Wednesday, June 20th to mark World Refugee Day. Presented in partnership with Refugee 613, Oxfam and CARE Canada, speakers will share their personal stories from all dimensions of the refugee experience in Canada, including private sponsorship, policymaking and settlement.
The event will include the launch of Refugee 613's social media campaign #ShowYourWelcome and a gallery of portraits from the storytelling project Community. Everyone is welcome. This event is free of charge.
Each human "book" will speak to the participants at their respective tables for approximately 10 minutes each. Guests will have the chance to hear from several different human "books" over the course of the evening.
5:00-5:20 PM Registration
5:20-6:30 PM Human Library
6:30-7 PM Networking and Discussion
Please note that the event will be held predominantly in English.

Photos above feature participants in the storytelling project Community.
This event is presented by: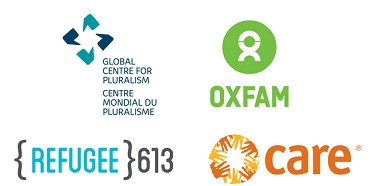 Les voix de l'accueil et du refuge – une bibliothèque vivante pour la Journée mondiale des réfugiés
Joignez-vous à nous au Centre mondial du pluralisme le 20 juin pour une bibliothèque vivante afin de souligner la Journée mondiale des réfugiés. Dans le cadre de cet événement présenté en partenariat avec Refugee 613, Oxfam et CARE Canada, les conférenciers partageront leurs propres histoires, abordant tous les aspects de l'expérience des réfugiés au Canada, incluant le parrainage privé, l'élaboration de politiques et l'installation.
L'événement marquera également le lancement de la campagne de médias sociaux de Refugee 613 #ShowYourWelcome ainsi qu'une galerie de portraits du projet Community. Bienvenue à tous. L'événement est gratuit. Chaque « livre vivant » parlera avec les participants à leurs tables respectives pendant environ 10 minutes. Les invités auront l'occasion d'écouter différents « livres vivants » au fil de la soirée.
17 h – 17 h 20 Inscription
17 h 20 – 18 h 30 Bibliothèque vivante
18 h 30 – 19 h Réseautage et discussion
Veuillez noter que l'événement se déroulera principalement en anglais. Les photos ci-dessus présentent des participants du projet de narration Community.
Cet événement est présenté par :