On December 10, join us as we gather to celebrate 100 Pitch Events with a Volition Pitch Alumni Showcase!
About this event
We have hit a milestone with our Pitch Events! On December 10, we will be celebrating our 100th Pitch Event with a Global Volition Pitch Alumni Showcase
This event will highlight startups in our community from across North America and Europe from various industries and stages, some that we have recently met, and a few that go way back.
At Volition, we support entrepreneurs from across Canada and beyond by providing space for conversations, connections, and practical skill-building--and that's what our pitch events are all about!
VIRTUAL EVENT LINK: Zoom webinar, sent via Eventbrite following registration.
PLEASE NOTE: Doors close after 30mins (a recording will be made available for all registered attendees)
..
Who's are your hosts?
..
WHAT TO EXPECT
Eleven entrepreneurs from across North America and Europe will take the virtual 'stage' to present their 3-minute startup pitch.
While there will be no feedback this time around, the audience will have the opportunity to offer their support as well as engage with pitchers via polls, Q&A and Live Chat + vote on a fan favourite!
We will be inviting our global community of founders, investors, and ecosystem partners to the event, and encourage family, friends, and teammates to join in!
For our part, we commit to creating a comfortable and engaging space for the startup community to gather.
..
THIS EVENT IS FOR...
Members of the global startup ecosystem who are keen to connect and check out up and coming (and established) innovators and entrepreneurs from the Volition pitch community. This includes:
Entrepreneurs (and aspiring ones)
Investors
Educators
Students
Ecosystem supporters and service providers
...and those who are just plain curious
..
RUN OF SHOW
11:00 - 11:15 PT | 14:00-14:15 ET - Check-in and Opening Remarks
11:15 - 11:45 PT | 14:15 - 14:45 ET - First 6 Alumni Present
11:45 - 12:00 PT | 14:45 - 15:00 ET - 'What is your Volition?'
12:00 - 12:30 PT | 15:00 - 15:30 ET - Remaining Alumni Present
12:30 - 13:00 PT | 15:30 - 16:00 ET - Audience vote on Top Pitch and Wrap Up
NOTE: doors close after 30 minutes
Words from past attendees:
"Thanks for hosting a really great event today in Amsterdam! I've attended many many pitch events and I thought today's was in its own class as far as comfortable environment and constructive feedback for the pitchers." - Kelly Adam
"I really enjoyed the event and found it incredibly useful. I was actually pitching for my non profit again [the next weekend] and won an award which includes a cash prize for the organisation, and I think the feedback I got from the Volition event was really instrumental in helping me improve my pitch for that. So thank you!!" - Women's Pitch Night Amsterdam runner-up
"I'm really thankful to have had the opportunity to pitch at Volition Pitch Nights because that really changed the course of my pitching career. I never thought I would be so comfortable pitching. I definitely recommend the pitch nights to every entrepreneur!" - Andrei Matei, Founfer of Robbox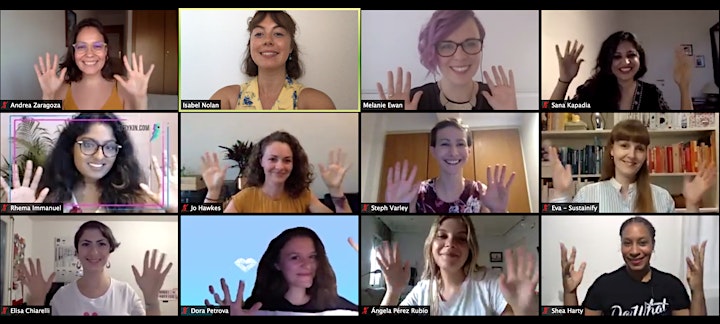 THANK YOU TO OUR GERNEROUS SPONSORS:

Organizer of Volition Pitch Alumni Showcase | Celebrating 100 Pitch Events
At Volition, we build capacity, connectivity, and knowledge within global startup ecosystems through co-creating and delivering value alongside trusted partners.
We believe that startup ecosystems are made stronger and more sustainable when ecosystem actors find meaningful and creative ways to collaborate. With this in mind, we work closely with trusted ecosystem partners from across Canada, the U.S. and Europe, to deliver skills-based training, coaching, and curated events to startups.