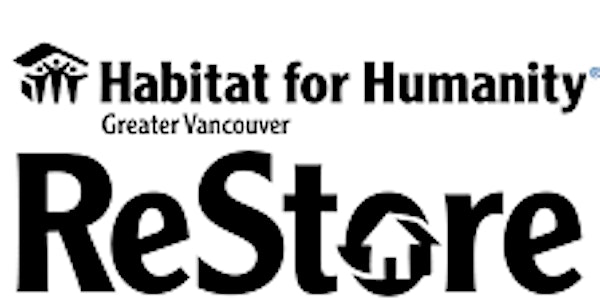 Multiple dates
Volunteer at Habitat for Humanity ReStore Locations
Volunteer with Habitat for Humanity ReStore
By Corpus Christi College & St. Mark's College
Date and time
November 26, 2022 · 8:45am - April 30 · 5pm PST
Location
Habitat for Humanity Enterprise ReStore 7977 Enterprise Street Burnaby, BC V5A 1V5 Canada
About this event
Corpus Christi College and St. Mark's College students, staff, and faculty are invited to volunteer with Habitat for Humanity at their ReStore locations. Volunteers help out on the last Saturday or Sunday of each month with various duties in the operation of the store. Those interested are encouraged to sign up at least 1 week prior to the event date. All volunteers are to find their own way to the ReStore location. Once you've signed up on Eventbrite, we will notify you to confirm your participation. All inquiries are to be directed to studentlife@corpuschristi.ca.
Volunteer Details
Dates: The last Saturday or Sunday or each month is available.
Location: 7977 Enterprise Street, Burnaby. Go to the back of the building, as you will be arriving before it opens. See page 2 for a map, parking, and transit information.
What to expect: We will send an orientation video in advance, and each volunteer will be asked to sign a waiver. Volunteers must be at least 18 years old. Onsite, the store manager will do a brief safety orientation and outline the tasks for the day. Tasks may include, but are not limited to merchandising, cleaning and tidying, guiding customers and finding help if required, assisting at front desk. If something happens where you cannot attend at the last minute, please advise the Store Manager at 604-420-1618 or enterprise@habitatgv.ca
Safety: Your safety comes first. The day will begin with a tour of the ReStore and then the store manager will provide an overview of the day's goals and review any necessary safety precautions. Please note that all volunteers must be present for this briefing. During the day, if at any time you do not feel comfortable with a particular assignment, speak to a staff person. You are not expected to do anything you are uncomfortable doing.
Safety Gear:
1. Footwear – Steel toe boots are required onsite. Bring your own if you have them, but we also have a selection of boots to borrow for the day. We will ask that you send your boot size to jserna@habitatgv.ca a minimum of one-week prior to your volunteer date.
2. Work Gloves – These are provided although feel free to bring your own if you wish.
3. Safety Glasses, Dust Masks and Earplugs – any additional safety equipment will be provided if required for a task, although again, feel free to bring your own if you prefer.
Clothing: Habitat for Humanity Greater Vancouver operates rain, snow or shine so dress for the weather and wear layers that you can add/remove. Consider wearing loose, comfortable clothing that you don't mind getting dirty. Long pants are required to minimize splinters and scrapes. You will be provided a Habitat for Humanity shirt to wear that is yours to keep.
Valuables: Please limit your valuables to only what you need. We have a few spaces to store belongings, at your own risk.
Meals: You are responsible for bringing your own lunch. Our lunchroom includes a fridge and a microwave. Please bring a refillable water bottle
Address: Habitat for Humanity Greater Vancouver's ReStore in Burnaby is located at 7977 Enterprise Street.
Directions: The Enterprise St ReStore is situated on the north side of Lougheed Highway. Turn onto Lake City Way and take the first right onto Enterprise St, the store is on the north side about 350m from the junction.
Parking: Parking is available at the back of the store.
Transit: The store is accessible via the skytrain. Leave the train at Lake City Way Station and walk to Enterprise Street turn right and continue to the store, which is about a 7minute walk.
Habitat for Humanity appreciates your desire and commitment to volunteer. By volunteering, you are helping to provide a long-term solution to the affordable housing crisis in Greater Vancouver. Your work will make a tangible contribution to the lives of all the families who will eventually move into their Habitat home. Together, we are building a community by helping hard working families realize their dream of home ownership. From our partner families and Habitat for Humanity Greater Vancouver staff, thank you so much!