Description
Join The Canadian-Muslim Vote on Friday March 30th, to raise awareness on the importance of voting! We will be at various mosques across Ontario, on Good Friday Jummah. Our goal is to remind Ontarians to vote in this year's provincial election, helping to elect the next Premier of Ontario.

Join us as a Volunteer Ambassador or a General Volunteer. Volunteers will set up booths at mosques across Ontario, and be responsible for speaking to congregates before and after Jummah prayer. We need your support to increase civic engagement and education in Ontario! On Good Friday Jummah, spread the message: it's important to vote and be involved in the democratic process!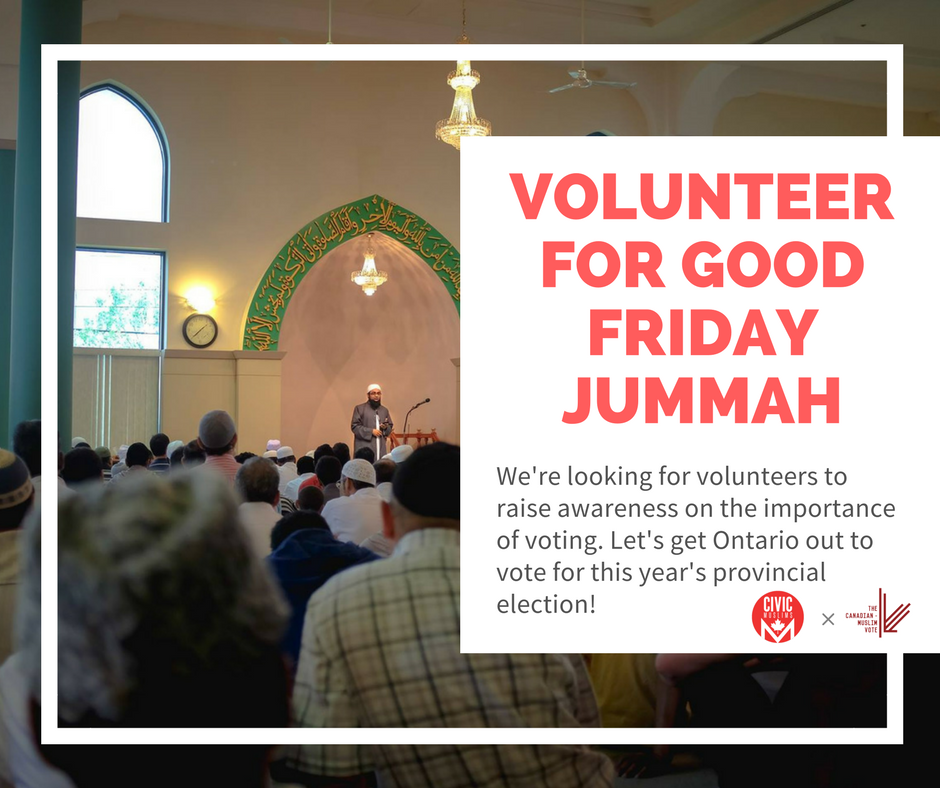 *Please note all volunteers will be invited to join The Canadian-Muslim Vote and CivicMuslims at a Volunteer Kick-Off Event prior to Good Friday Jummah. This session will include training & an event day run-through. Your contact info will be passed along to The Canadian-Muslim Vote to follow-up for this event*
The Canadian-Muslim Vote is a non-partisan non-profit organization, with the aim of increasing the participation of Canadian Muslims within the democratic process.
CivicMuslims is a grassroots non-profit and the first Muslim volunteer centre in Canada. CivicMuslims' mission is to connect those looking to do good with opportunities to do good.