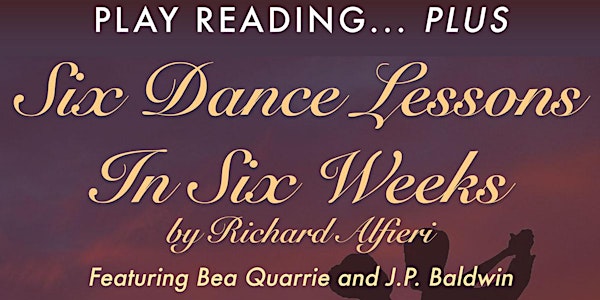 VOS Theatre at Dalewood: Six Dance Lessons in Six Weeks
When and where
Location
Dalewood Golf Club 7465 Dale Road Cobourg, ON K9A 4J7 Canada
Description
VOS THEATRE AT DALEWOOD
Play Reading and Decadent Dessert Buffet
Doors: 6:45 Dessert Buffet and Cash Bar Open Throughout the Evening
Play Reading 7:30 Featuring: J.P. Baldwin and Bea Quarrie
This extremely popular two-character comedy/drama has enjoyed tremendous success both nationally and internationally since it premiered with Uta Hagan and David Hyde-Pierce.
Lily, an aging but formidable retiree, hires Michael, an acerbic dance instructor to give her dance lessons in her condo in St. Petersburg, Florida. Antagonism between a gay man and the wife of a Southern Baptist minister gives way to a profound compatibility as they swing dance, tango, foxtrot, and cha-cha while sharing intimacies along with dance steps. During the sixth lesson, Lily reveals a closely guarded secret – she is terminally ill – and Michael shares his greatest gifts – loyalty and compassion. As Michael takes Lily in his arms on their final meeting, they both transcend fear and mortality while the sun sets on their last dance.
"Thoughtful, razor sharp, charming, funny and genuinely moving" – Hollywood Reporter
"Presented by permission of Samuel French Inc.