About this Event
This is what spectators of the first W2W Fight Night are saying:
" I didn't want to leave the hall. I didn't want to miss a thing. Every minute has been something new. I drove for 8 hours to get here, and it has been totally worth it."
— Larry H.
"It's quite impressive... I'm seeing quite a bit of skill, and these guys [and ladies] look like real MMA fighters to me. Down at Champion's Creed, we've got some of the best facilities in the world and some of the best coaches in the world. Myself coming from there, Nick Ring coming from there and a lot of other great fighters coming up."
— Mean Hakeem Dawadu, UFC Fighter
The W2W Fight Night at Champion's Creed is sanctioned by The City of Calgary and by The City of Calgary Combative Sports Commission.
W2W MMA Fight Night - October 19th, 2019
Doors Open at 5:00pm. Fights Start at 6:00pm.
Deerfoot Inn & Casino
11500 35 St. SE #1000
Calgary, AB T2Z 3W4
Ticket Prices:
$85 (General Admission)
$95 (3rd row)
$110 (2nd row)
$125 (1st row)
To Purchase Tickets Contact:
Champion's Creed Martial Arts
403-805-8308
w2w@championscreed.ca
119-42 Ave SW, Calgary, Alberta
Champion's Creed Martial Arts will host W2W Fight Night on Saturday, October 19th.
Under the direction of Champion's Creed's Head Coach Brian Bird, the martial arts gym's coaches and athletes have been preparing every single day for over 120 days for this amateur MMA fight.
They've been trained in Brazilian Jiu-Jitsu and Muay Thai/Kickboxing techniques.
This is the second series of Wimp 2 Warrior competitors in Calgary.
Champion's Creed hosted the previous series in April of 2019, which you can read more about here in this Crowd Perspective.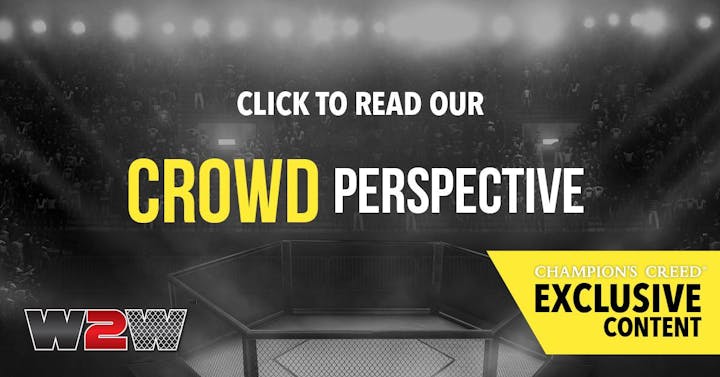 PS. Want to be a Warrior?
Registration is Now Open for W2W Season 3!