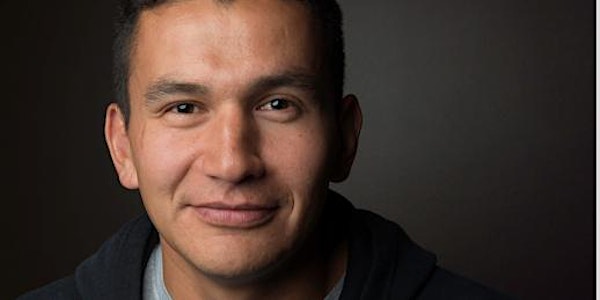 Wab Kinew: On Reconciliation and the TRC report
When and where
Location
Isabel Bader Theatre Toronto, ON M5S 1K6 Canada
Description
On Wednesday Feb 24th join us at the Isabel Bader Theatre, as best selling author, broadcast journalist, administrator and indigenous advocate, Wab Kinew addresses reconciliation and the findings of the Truth and Reconciliation commission. You can reserve tickets for this event beginning Wednesday Jan 13th at 10:00 AM.
There will be a rush line before the talk begins, however there is no guarantee that seats will be available.
---
Wab Kinew (pron: WOB ka-NOO) is a one-of-a-kind talent, named by Postmedia News as one of "9 Aboriginal movers and shakers you should know." He is the Associate Vice-President for Indigenous Relations at The University of Winnipeg and a correspondent with Aljazeera America. Wab inspires the young and the young at heart through hands on learning, artistic performance and motivational speaking.
In 2012, Wab hosted the acclaimed CBC Television series 8th Fire. His hip-hop has won an Aboriginal Peoples Choice Music Award. His journalism has won an Adrienne Clarkson RTNDA Award and been nominated for a Gemini Award. He has a BA in Economics and is a member of the Midewin. 2012 also saw Wab named the University of Winnipeg's first ever director of indigenous inclusion.
In 2014, Wab successfully defended Joseph Boyden's "The Orenda" on CBC's Canada Reads literary competition. Soon after, CBC announced Wab as the show's host, the fourth in its annual battle of the books.
"Honest Injun"… "Indian giver"… "Cowboys and Indians"… These are just expressions that have creeped into our language. They don't really mean anything… right? Wrong. Wab knows all about words. He took on his own bosses in a fight over words. Are the children of residential schools simply former students? Or are they, as Wab insisted, survivors? For Wab that fight was close to home. His father grew up in a residential school like more than a hundred thousand other Native children. He was brutalized and terrorized. And lived to tell about it.
For Wab, his father wasn't merely a former student. The residential school mission of "killing the Indian in the child" quite often simply killed the child. For those who managed to stay alive, Wab wanted Canadians to know that the story of Aboriginal people today isn't limited to the words – and pictures – we are used to. Images of communities in crisis – of broken down homes, mouldy trailer, and grinding poverty – taken in Aboriginal and Inuit communities like Attawapiskat, Kashechewan, and Davis Inlet.
These pictures tell Native and non-Native Canadians the only relationship these two groups can have is one based on charity – helper and helped. 8th Fire is trying to change that. Its premise? Native and non-Native Canadians can have relationships based on mutual trust and benefit. Wab stands at the divide of these two solitudes, holding out his hand. He calls himself an ambassador for First Nations people. And he says it's about time Canadians – all of us – figure this relationship out.
Wab inspires the young and the young at heart through hands on learning, artistic performance and motivational speaking. Drawing on the wisdom of the Anishinaabe elders, western education and experience as a journalist, Wab can work with people to discover their inner passions and help transform those passions into purposeful action.
Young Canadians, and Aboriginal youth in particular, face a wealth of challenges from rising obesity rates to lack of engagement with the political system all the way to a sense of loneliness amidst an increasingly technological world. In spite of the diversity of challenges, he believes that there is a common solution to all of these obstacles: building a new generation of active, motivated and compassionate citizens. He provides live community empowerment solutions towards that goal.
This event is part of Indigenous Education Week and is sponsored by the Arts and Science Students' Union, the Scarborough Campus Students' Union (SCSU), the University of Toronto Students' Union (UTSU), First Nations House, the Department Of Aboriginal Studies and the Department of Anthropology.