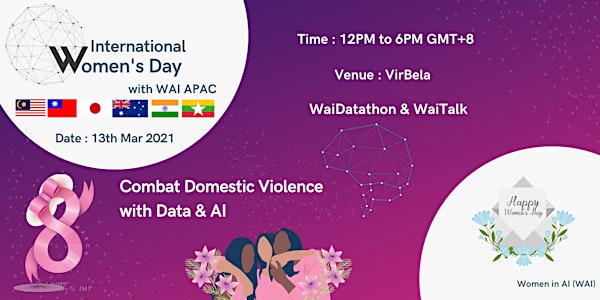 WaiDatathon 2021- Combat Domestic Violence with Data & AI
WAI APAC proudly brings you WaiDatathon & WaiTalk, with the theme Combat Domestic Violence with Data & AI
Refund Policy
Contact the organizer to request a refund.
Eventbrite's fee is nonrefundable.
About this event
In conjunction with International Women's Day, WAI APAC proudly brings you WaiDatathon & WaiTalk, with the theme "Combat Domestic Violence with Data & AI". Subtheme of the event is "AI for Mental health".
We are also going to have renowned speakers to talk during the celebrations on this theme as well.
Date and Time:
Check the event date and time in your local time zone using :
https://www.thetimezoneconverter.com/
Call for participation
We are also looking for experts to join us as Jury / Mentor / Judges / Keynotes speakers.
Please fill in the form https://forms.gle/cngoLFgB3nJN1CUHA
Application deadline: 10th Feb 2021
How to join
Eventbrite registration is mandatory.
We will have the event on VirBela. Download VirBela:
1. Register on Virbela from here https://opencampus.virbela.com/register?redirect=download
2. Once registration is completed, on the next page, download VirBela.
3.Use VirBela from Desktop/PC only (Mobile is not supported).
If you are a speaker, mentor or a participant of WaiDatathon it is required to register on Women in AI using the form given below . This is to facilitate communications on our Slack workspace with you.
https://womeninai1.typeform.com/to/GOcQ3Y
We highly encourage others to become a member of Women in AI using the above mentioned form .
For any issues or queries please write to wai_apac@womeninai.co
WaiDATATHON
In the WaiDatathon 2021, you will work in teams to analyze the datasets to answer problem statements of your choice relevant to the theme and present your findings on the final day of the event. Work together and focus on the big picture. Remember, the point of the WaiDatathon 2021 is to make our world a better place!
Pre-submission link: https://forms.gle/1ZKzjmsprkcxRjqd8 (you must be registered on EventBrite.)
Pre-submission deadline: 22nd February, 2021, 11:59 PM GMT+8
Rules and Regulations
1. WaiDATATHON 2021 is open to university students and working individuals from all backgrounds including:
Data Scientist
Data Engineers
Programmers
Data Science Community
Computer Engineers
IT Professionals
Registrations are open to teams with 3 people minimum and 5 people maximum (minimum 50% women in the team). All team members must register on Eventbrite.
2. Dataset
You may use this dataset from Data World given below:
https://data.world/makeovermonday/2020w10/workspace/file?filename=20200306+Data+International+Women%27s+Day+Viz5+Launch.csv
https://data.gov.uk/dataset/5582cf2d-4f83-430e-b304-a2e924a1c88d/domestic-violence-incidents-level-medium-risk
https://docs.google.com/spreadsheets/d/1ANPTxh-bSP-3QKweq7hx9Mhv7znahvXYAwAXS1_rswI/edit?usp=sharing
While at least one of our provided datasets must be a central part of your project, you are free to use external data as well. The use of common data ensures fair judgement for all the applicants, and encourages you to try different approaches with the data you are not yet familiar with - a crucial skill for any data scientist.
3. You MAY NOT use any code that you have written before the event.
4. You MAY use any language/framework/library/API you prefer.
5. Only ten of the competing teams will present their projects in the final round of judging at the end of the event.
6. Teams that make it to the final round will be given up to five minutes to present their finished project to a panel of judges.
7. You must be 18+ age to participate in the datathon.
Code of Conduct
By participating in any WAI event, you agree to abide by the following code of conduct.
Please treat all other participants with the utmost respect. We ask that you act kindly, behave professionally, and do not insult or put down other attendees. Remember that harassment and racist, sexist, or exclusionary jokes are not appropriate for this event. If at any point you see a fellow participant being harassed, please inform the Datathon organizer.
Please treat our sponsors, organizers, and judges with the utmost respect. Without them, nothing would be possible.
Failure to comply with the above-stated Rules and Code of Conduct may result in the offending team's disqualification.
Judging criteria
Here are some broad categories that you can consider for your projects:
Visualization
Statistical insights/correlations
Machine learning models
Interactive data exploration application
Or any combination of these! Your project DOES NOT have to include all of these areas. You may focus on only one. Judging will be holistic and will prioritize the quality/creativity of your overall approach irrespective of which direction you take.
Rules on Intellectual Property
All results are owned by the individual WaiDATATHON 2021 team.
All services, ideas, art, code and concepts made during the WaiDATATHON 2021 are owned by the members of the team that developed them (not the local Data Hub or the Women in AI). This includes all aspects of intellectual property, such as patents, trademarks, data models design and copyright. In the cooperative spirit of a WaiDATATHON 2021, there are often many people helping one another. All members of the team are held to standard industry practices of collaboration, including appropriate acknowledgments to parties (also in other teams) who may have contributed. The design team is free to develop their ideas commercially after the WaiDATATHON 2021, but the results of the WaiDATATHON 2021 itself must be open, as below.
All results have to be published and archived on the Wai platform under Creative Commons license.
All participants of the WaiDATATHON 2021 will allow the documentation of their Data Science solution to be archived on the Wai platform in the form it was submitted at the end of the WaiDATATHON 2021. Participants may update their articles posted with notice of update information.
All articles can be used for lectures at conferences, schools or industry venues with the expressed discretion of the Women in Ai.
By registering for the event you are agreeing to the agreements of intellectual property.
For updates about the event follow us on LinkedIn https://www.linkedin.com/showcase/women-in-ai-asia-pacific-apac-/