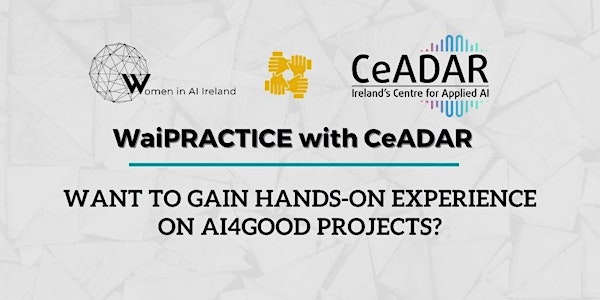 #WaiPRACTICE with CeADAR Showcase
Join us for the showcase of completed data science projects in WaiPRACTICE cohort ran in collaboration with CeADAR
About this event
Women in AI Ireland WaiPRACTICE Program Autumn Cohort officially concluded on Friday, November 11th 2022: 8 weeks of research for 8 volunteer AI Practitioners who gathered in two groups supervised by CeADAR Ireland Mentors to develop AI4Good projects with a particular focus on humanitarian issues affecting refugees from conflict areas.
The presentations of both successfully completed projects will be presented at the final WaiPRACTICE Showcase event on December 12th, 2022.
Project 1: "Towards AI for humanitarian actions: exploring data on populations displacement"
This project aims at exploring and exploiting the potential of a series of datasets recording population displacement due to conflict, with a particular focus on Ukrainian migration in Ireland. The core research questions are:
● What information can we get out of those data?
● What are the potential and limitations of the obtained information?
● Is there any chance to predict future trends to inform resource allocation?
Project 2: "Refugees in A Housing Crisis: A Visual Analysis"
With the sudden rise of influx of refugees, particularly from Ukraine, it has become increasingly important to provide social and affordable housing in Ireland. This project aims to provide some insight on where in the country the incoming refugees can be placed.